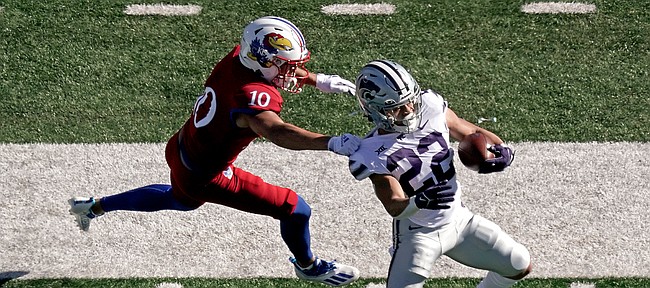 After his Kansas football team only scored one touchdown on nine possessions against rival Kansas State Saturday at David Booth Kansas Memorial Stadium, KU head coach Lance Leipold needed one word to assess the play of the offense.
"Subpar," Leipold said, following the Wildcats' 35-10 win in front of an announced crowd of 30,611.
"Offensively, you know again, it sputtered," Leipold said after KU's eighth consecutive loss this season, which also marked the Jayhawks' 13th defeat in a row in the Sunflower Showdown series.
"There were glimpses at times. And when you only rush the ball for what, 88 yards," Leipod added, "it's not the type of day that we're going to need to be a winning football program."
When K-State star running back Deuce Vaughn dove across the goal line for his third touchdown of the day, a few minutes into the fourth quarter, the 5-foot-6 sophomore from Round Rock, Texas, had more total yards (232) than KU's offense (217) at the time, and the Wildcats extended their already comfortable cushion to 35-10.
K-State posted 499 yards of offense to KU's 274 in an easy rivalry win for the Wildcats.
"They have some explosive players, playing with confidence and playing fast all the time," Leipold said of KU's rivals.
"It's not a matter of willing or wanting," the coach added of his team's defensive issues, "it's a matter of confidence to go make it happen. I think that happens from time to time."
K-State (6-3 overall, 3-3 Big 12) wasn't having much trouble moving down the field on its fifth TD drive, but it also benefited from two KU penalties after getting into there red zone. Junior linebacker Gavin Potter hit QB Skylar Thompson (19-for-24 passing, 244 yards, one TD) late out of bounds. In the midst of some shouting that followed, with players from both teams near Thompson along the K-State sideline, KU safety Kenny Logan Jr. also picked up an unnecessary roughness penalty, and K-State's next snap came at the 3-yard line, setting up the Vaughn score.
"I also told (K-State head coach Chris) Klieman after the game that that's not the way we're going to play," Leipold said of the late hit by Potter and the penalties. "And I think (Klieman) knows that's not the way we coach it. So I think that's frustration. I think it's a lot of things, but we've got to be better than that. I have to do a better job than that."
After a three-and-out on their first offensive series of the second half, the Jayhawks (1-8 overall, 0-6 Big 12) avoided going without a touchdown for the second week in a row. With sophomore Jalon Daniels in at quarterback — both starter Jason Bean and backup Miles Kendrick suffered injuries in the first half — KU put together its first TD drive since its home game against Oklahoma on Oct. 23.
Connections between Daniels and super-senior receiver Kwamie Lassiter II made the scoring drive possible. Daniels hit Lassiter for passes of 18, 24 and 15 yards on the 80-yard TD drive.
Lassiter (six catches, 82 yards, TD) had to fight for the 15-yard score, which came on fourth-and-4, as the veteran receiver worked his way past multiple defenders to reach the end zone. But that TD only helped trim K-State's lead to 28-10 late in the third quarter.
The Wildcats only needed one play and the two speedy legs of Vaughn (11 carries, 162 yards, three rushing TDs) to reestablish their dominance on the home field of their rivals in the second half. Vaughn was patient behind the line of scrimmage on his first touch of the third quarter, and then blew by the KU defense as he sprinted down the left sideline for an 80-yard touchdown that helped put the Jayhawks in an even deeper, 28-3 deficit just 15 seconds into the second half.
Said KU junior linebacker Rich Miller of Vaughn's big day, which included six catches for 70 yards: "He was just a slippery dude."
KU's defenders, Miller added, knew about Vaughn's skills coming in and how the versatile back would be hard to stop.
"But their offensive scheme was schemed pretty well, that they made a way for him to get out. And, you know, we had some blown coverages on some of those, and when we blow our coverages they capitalized, so we've got to fix that," Miller said.
In a one-sided first half, K-State averaged 10.7 yards per play and 7.3 yards per rush en route to 267 yards and a 21-3 lead at intermission. KU averaged just 2.3 yards per run, 4.2 yards per play, and had 130 yards.
The long afternoon for the Jayhawks — at least on the scoreboard — felt all the more agonizing as injuries to multiple skill players began to pile up for the KU offense.
Leipold said he thought the Jayhawks had "a little rhythm going" before sophomore running back Torry Locklin got hurt late in the first quarter. Soon after came injuries to QBs Bean and Kendrick, too.
"I think those injuries and and having (Locklin and Kendrick) carted off the field kind of took a little bit of wind out of us," Leipold said. "I don't want to take away anything from Coach Klieman and his program. I just think we lost a little of our intensity."
Down 18 points in the final minutes of the second quarter, the Jayhawks had a couple of young backups in the backfield, with sophomore Daniels at quarterback and redshirt freshman Amauri Pesek-Hickson at running back. KU twice averted a late-second quarter disaster on the short series. Pesek-Hickson recovered a botched exchange between Daniels and the running back on one play. And on the very next snap, K-State defensive end Felix Anudike-Uzomah sacked Daniels, forcing a fumble in the process. Senior left tackle Earl Bostick Jr. landed on the loose ball to make sure K-State didn't take over 33 yards from the end zone.
The KU defense came through with a rare first-half stop on K-State's third possession. After the Wildcats' first two plays of the series went for first downs, an intentional grounding flag against Thompson — courtesy of pressure from KU senior defensive end Malcolm Lee — sent K-State 20 yards in the wrong direction.
Though a couple successful Thompson passes got K-State into fourth-and-2 near midfield, Ty Zenter came on for his first of two punts on the day.
A three-and-out — one 2-yard completion and two incompletions for Bean — by the KU offense on the ensuing series assured K-State of maintaining its lead and momentum.
And with that, the Wildcats' offense went right back to marching down the field. Thompson found Vaughn for gains of 19 and 23 yards and the eight-play drive that covered 79 yards concluded with fullback Ben Sinnott powering across the goal line for a 1-yard TD. K-State led 21-3 before halftime.
Already in an 11-point hole as the second quarter began, the Jayhawks couldn't capitalize on a gift in the form of a 15-yard K-State penalty. Cody Fletcher hit Bean late on a third-and-12 pass that Bean was just getting rid of, with no receivers open. Instead of the drive ending, the roughing the passer flag gave KU a free 15 yards and extended the series.
That put KU in plus territory, and Bean took off for a 12-yard scramble a few plays later. However, on third-and-5 at the K-State 22-yard line, a pump-and-go intended for Lawrence Arnold in the back left corner of the end zone was too high for the 6-foot-3 receiver.
KU didn't even get three points out of its third possession, as sophomore kicker Jacob Borcila misfired on a 39-yard field goal with 11:20 left in the first half.
Before the end of the first quarter, K-State established a two-score lead with a flash of a second drive, which only needed two plays. Senior QB Thompson hit junior wideout Malik Knowles deep for a 68-yard touchdown that helped the Wildcats establish a 14-3 advantage with 1:59 left in the first.
The first big play for the KU offense came on the home team's second series, when Bean rolled out right and spotted sophomore receiver Trevor Wilson behind the K-State secondary for a 45-yard connection.
The drive didn't advance much further for KU, though, and K-State junior linebacker Daniel Green blew up a run by Bean — making the hit that hurt the QB — three plays later. The Jayhawks at least got some points out of the drive, as sophomore Borcila kicked a 40-yard field goal into the wind and through the uprights.
K-State didn't waste any time getting its star sophomore running back, Vaughn involved. Vaughn accounted for 51 total yards on the Wildcats' opening possession, including a 1-yard touchdown run to give K-State the early lead, a little less than 10 minutes into the rivalry game.
The Jayhawks came out assertively after receiving the ball on the opening 11:03 a.m. kickoff. KU opted to go for it on fourth-and-inches from its own 34-yard line, despite the fact that if the Jayhawks failed, K-State would be set up with a short field and, potentially, early momentum.
Freshman running back Devin Neal (19 rushes, 62 yards) pushed ahead on the ensuing fourth-down carry, gaining just enough to move the chains. However, the calculated gamble ultimately did little for the Jayhawks, as K-State's defense had KU in a far less enticing fourth-and-5 a few plays later, leading to a Jayhawks punt.
"Gotta keep working. Gotta keep working," Leipold repeated after the 25-point home loss. "And that's probably the biggest thing. As I've said for a long time, our margin for error is very small. And we've got to find ways to overcome things that don't go our way, and respond a little bit better than we have. And become a little bit more consistent."
KU travels next week to play at Texas.
SCORING BY QUARTERS 
FIRST QUARTER
5:40 — Deuce Vaughn 1 run. Chris Tennant kick. Eight-play drive for 72 yards, in 4:42. (K-St. 7, KU 0.)
2:52 — Jacob Borcila 40 field goal. Six-play drive for 54 yards, in 2:39. (K-St. 7, KU 3.)
1:59 — Malik Knowles 68 pass from Skylar Thompson. Tennant kick. Two-play drive for 70 yards, in 0:46. (K-St. 14, KU 3.)
SECOND QUARTER
2:48 — Ben Sinnott 1 run. Tennant kick. Eight-play drive for 79 yards, in 4:09. (K-St. 21, KU 3.)
THIRD QUARTER
14:45 — Vaughn 80 run. Tennant kick. One-play drive for 75 yards, in 0:15. (K-St. 28, KU 3.)
3:04 — Kwamie Lassiter II 15 pass from Jalon Daniels. Borcila kick. Eight-play drive for 80 yards, in 4:26. (K-St. 28, KU 10.)
FOURTH QUARTER
10:46 — Vaughn 1 run. Tennant kick. Thirteen-play drive for 75 yards, in 7:13. (K-St. 35, KU 10.)