Thursday, November 4, 2021
By the time tipoff rolled around for the Kansas men's basketball program's exhibition game against Emporia State on Wednesday night, the Jayhawks already had practiced twice that day.
Once at 7 a.m. And again at 2 p.m.
The reason was simple.
"We've got to get better," Kansas coach Bill Self said after the 86-60 victory at Allen Fieldhouse. "We play on Tuesday, so it's crunch time."
With exhibition games against Tulsa and Emporia State now behind them, the Jayhawks' full attention can shift to next week's season opener against Michigan State at the Champions Classic in New York.
Photo Gallery
Kansas basketball v. Emporia State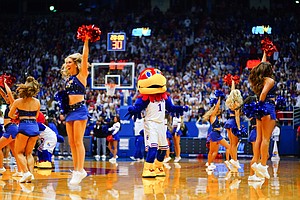 View a gallery from Wednesday night's exhibition game between the Jayhawks and Hornets at Allen Fieldhouse.
Self said that the Jayhawks would be off Thursday morning, but did not make any promises about an early-morning session on Friday.
"It hasn't been very good the last couple of days," Self said. "At all. So, we need to be on the court."
Although there were elements of Wednesday's victory that Self was pleased with, there were other parts — per usual — that he thought needed to be cleaned up. Practice is the best time to do that and so that will be the emphasis for the next several days leading up to the 6 p.m. tipoff from Madison Square Garden next Tuesday night.
"You should play to beat Michigan State, not play to beat Emporia State," Self said. "And there were some things that you'd get by with that you're not going to get by with on Tuesday. I think sometimes guys will go try to make a play that's not going to be available to them on Tuesday, which is easy to do. But I think we've got to get better at that."
Asked if he sensed any frustration from his head coach at either of the practice sessions that preceded game time on Wednesday, KU newcomer Joseph Yesufu smiled.
Document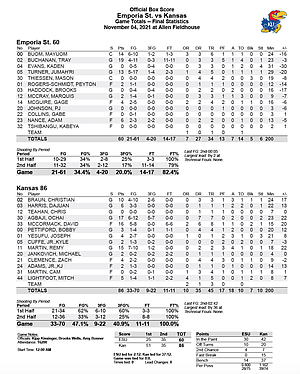 "Yeah. I'm not going to lie," he said. "It was just intensity. We had to get after it. It doesn't matter when. We're going to play hard, no matter what time it is, to prepare for this game and games to come. We're just trying to get better as a unit."
Veteran Jayhawk David McCormack, who has been around the program for three years and gone through hundreds of practices with Self saw it a slightly different way.
"I wouldn't say he's unhappy," McCormack said. "I think it's just that we need to know what we're doing going forward, going into sets and knowing every play that we need to know. We've got a big game coming up next week (and) since we have a lot of players every player needs to know multiple positions."
Overall, Self said he liked the way his team played and competed in the first half against ESU, calling the game "a good dress rehearsal."
"I thought we actually did some good things," Self said. "We played well, made shots, the ball moved, we played fast. The second half, I don't think we played near as well."
Self said part of the reason things deteriorated some in the second half was because of the number of Jayhawks who played significant minutes. Ten different players logged five or more minutes in the final 20 minutes and three others played four minutes apiece.
"It's hard to maintain rhythm whenever you do that," Self said. "But it was fine. I think we've played 32-33 exhibition games since I've been here and I wouldn't say this is the best, but it's certainly not bad either. It's probably middle of the pack."
After several more practices in the coming days, the third-ranked Jayhawks will travel to New York on Monday to usher in a new season of college basketball the following day.
KU and Michigan State have the early game in the Champions Classic doubleheader, and Duke and Kentucky will face off in the nightcap.
https://www.youtube.com/watch?v=B51V_TaWzok
https://www.youtube.com/watch?v=qxL8GCFsRXU
https://www.youtube.com/watch?v=0Ctnd93j2c0
https://www.youtube.com/watch?v=rXWL5ivsTYU
https://www.youtube.com/watch?v=AgX3_61ZGhE