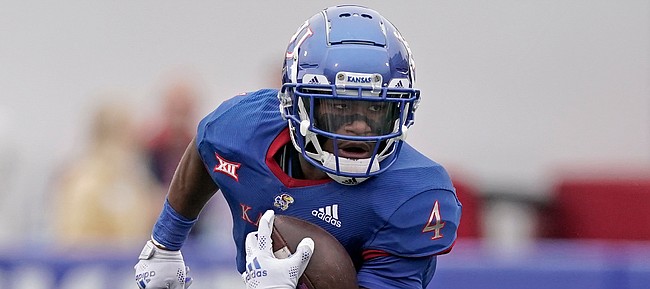 Look up and down the Kansas football team's depth chart heading into this week's rivalry game with Kansas State and you will only spot a handful of players who hail from the Sunflower State. But one of them — starting running back Devin Neal — might be as well versed in the series as anyone in the program.
Growing up in a city dominated by the colors crimson and blue, Neal, the former Lawrence High star, said he's always been a KU fan.
"And so it's always 'beat those other guys,' you know, and that's kind of how I feel about it," Neal said ahead of his first Sunflower Showdown, on Saturday at David Booth Kansas Memorial Stadium (11 a.m., FOX Sports 1). "It's important for me, and I'm just gonna go out there and enjoy the game."
For Neal, KU's leading rusher (443 yards, 4.4 yards per carry, four touchdowns) as a true freshman, the significance of his first game against K-State (5-3 overall, 2-3 Big 12) isn't solely tied to him playing for his hometown football program.
There's also a familiarity factor for Neal and three Wildcats who hail from Lawrence. Sophomore K-State receiver Keenan Garber, who played at Free State, is Neal's cousin. Plus, Neal knows former LHS standout Ekow Boye-Doe — one of K-State's starting cornerbacks — well, and he's friendly with the Wildcats' starting junior fullback, FSHS graduate Jax Dineen.
"We're pretty supportive of each other. We like to see what's going on, what they're doing, and they like to see what I'm doing," Neal said of his relationships with the trio of rivals in Manhattan. "You know, we have a lot of respect for each other. And obviously going into this game, we're not friends in this game," a smiling Neal added. "And they know that, I know that, and we're just gonna go out there and compete to the best of our ability."
Around the KU football facilities this week, head coach Lance Leipold and KU's players said, there hasn't been much variation from the norm or instances of coaches or players treating the days leading up to the K-State game any differently than they would a typical game week.
Outside of what Neal described as "a simple exchange" he shared with Boye-Doe over their smartphones earlier this week — "and we talked for maybe like five minutes about it," Neal clarified — the running back said he hasn't had many reminders about this being a rivalry week.
That might not be the case for the family members of Neal and Garber, though. Neal said his parents, Freda and Ryan McPhail, "chat a little bit" with Garber's parents, Gretchen Garber Nelson and Tim Nelson.
Added Neal regarding his parents: "They want to beat K-State just as bad as I do, and the rest of the team does."
Consequently, Neal isn't expecting a large, united family get-together in the bleachers on Saturday when he and Garber are down on the field competing for rival programs.
"I don't know if they'll be (sitting) together. I highly doubt it," Neal said with a grin, adding Garber's family members will probably be "in the purple section."
Though Neal grew up watching Sunflower Showdowns, he said he couldn't remember actually seeing KU winning any of them. Neal knows the Jayhawks haven't won the rivalry game since 2008, but he was 5 years old at the time.
"I'm sure my parents were super-hype about it," Neal added, "but I honestly, I don't remember."
The Wildcats have won 12 games in a row versus KU, and the Jayhawks (1-7 overall, 0-5 Big 12) are considered roughly 24-point underdogs for the 2021 matchup.
The past several years, when Neal was still at Lawrence High, he always looked forward to the annual City Showdowns against Free State. Now that he has graduated to Sunflower Showdowns, he said he feels the exact same way.
"It's just cool," Neal said of making his debut in the more than century old rivalry series. "I can't imagine how packed it's probably about to be, and that's what's really the crazy thing about it."
The last time KU played host to K-State, in 2019, the announced attendance was 47,233. So far this season, the highest attendance number for a KU home game has been 27,218 — for a Week 3 matchup with Baylor on Sept. 18.