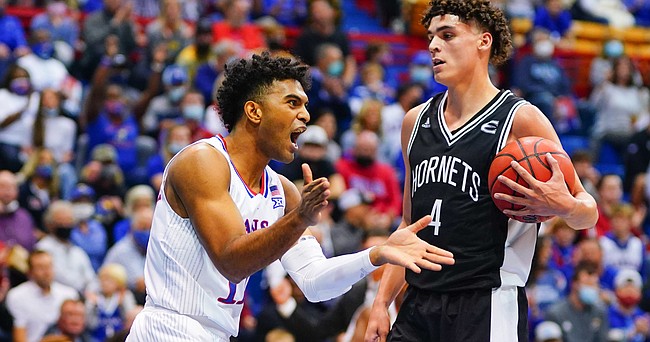 With 14 scholarship players on this year's roster and talent up and down the lineup, Kansas men's basketball coach Bill Self will have his hands full with figuring out how to find enough playing time to keep everyone happy.
That was easier to do during last Saturday's closed-door scrimmage with Tulsa and Wednesday night's 86-60 exhibition victory over Emporia State at Allen Fieldhouse. But it could be a greater challenge beginning next week, when KU takes on Michigan State in the regular season opener at the Champions Classic in New York City.
Tuesday, at KU's annual media day, Self said utilizing the redshirt option might make the process smoother.
Photo Gallery
Kansas basketball v. Emporia State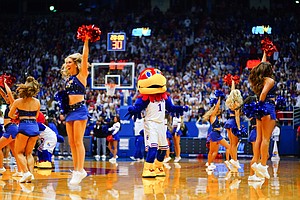 View a gallery from Wednesday night's exhibition game between the Jayhawks and Hornets at Allen Fieldhouse.
"We may have a redshirt (candidate) or two or three," Self said. "But I haven't had those conversations with our players yet. I told them that we're going to get through the exhibition games and then kind of sit down and talk and see how we view (them) at this juncture and see what they want to do moving forward."
Current Jayhawks Dajuan Harris Jr. (eligibility), Jalen Wilson (injury) and Mitch Lightfoot (player's decision) all have used redshirts in recent years. And Self said Tuesday that there were others in the past who he wished he had slapped a redshirt on during their early days with the program.
"Tyrel Reed," Self used as an example. "Why didn't we redshirt him? There have been guys like that that you go back and you say, 'Ooh. I wish I would've' and we didn't do it."
So much of the decision to redshirt or not comes down to the opportunity that's available within any given season. With so much talent on KU's current roster, that could play a major role in any redshirt decisions with this season's roster. Players who redshirt are still allowed to practice and workout with the team but cannot travel or play in games.
Document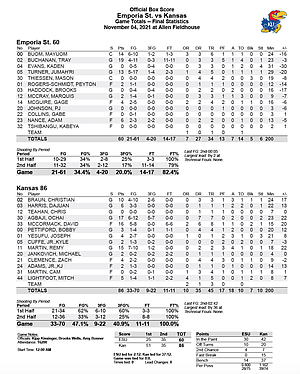 "We've got (young) guys that are good enough to be great players here," Self said. "But they're probably not going to get the same opportunities now as they will in a year or two. So, we'll have that discussion with the guys, but we haven't had that yet."
Teahan starts
KU's starting five included an unexpected Jayhawk when the starters were introduced.
Senior walk-on Chris Teahan, now in his fifth year with the program, picked up his first career start. Although he recorded just one rebound and no other stats during his first action in Wednesday's victory, Teahan played 4:01 of game time before checking out.
To put that number in perspective, Teahan, a fan-favorite, played 17 minutes all of last season.
As his name was called during player introductions, the KU student-section, which is used to chanting for him at the end of games, joined Teahan's teammates in exploding with joy.
Teahan also started Wednesday's second half, joining Dajuan Harris Jr., Ochai Agbaji, Christian Brau and David McCormack both times.
Asked after the victory why he went to Teahan to open the game, Self pointed to a player who knows what he is doing and knows what his coach wants and team needs.
"(We had) some not very good workouts or practices last couple of days," Self said. "There's certain ways we need to play and I don't think everybody understands and is totally bought into that yet.
"I'll be real candid with you. You play experience — a fifth-year guy who's going to make two of every three he shoots and hopefully not turn it over. I mean, that's a guy that can play and probably be just as effective as guys that maybe are more athletic but don't have it quite figured out yet. I think Chris deserved as much as anybody."
Coleman-Lands hobbled
Super-senior guard Jalen Coleman-Lands did not play during his first game as a member of the Jayhawks.
Self said Tuesday that the Iowa State transfer also did not participate in the team's closed-door scrimmage at Tulsa last weekend because of a toe injury that has bothered him of late.
Self said he expects the injury to linger for as long as 2-3 more weeks, but also noted that it will not necessarily keep the Iowa State transfer from suiting up or playing in KU's first few games.
"Jalen nicked up his toe, I believe it was last Saturday," Self said. "It's day-to-day, but it hasn't been the day (to return) yet."
Coleman-Lands was on the floor for pregame warm-ups, but he wore sweats and mostly rebounded and passed to his teammates in their game gear.
Coleman-Lands, suspended sophomore Jalen Wilson and walk-ons Charlie McCarthy and Dillon Wilhite did not suit up for Wednesday's game.
Exhibition success
Wednesday night marked the 100th officially recognized exhibition game in Kansas basketball history and the Jayhawks are now 91-9 in those games.
KU now has won 32 consecutive exhibition games dating back to Oct. 30, 2012.
From 1994 through today, the Jayhawks have won 53 exhibition games inside their home venue and are 59-2 in exhibition play under Self. The two losses came during an overseas trip in the summer of 2012.