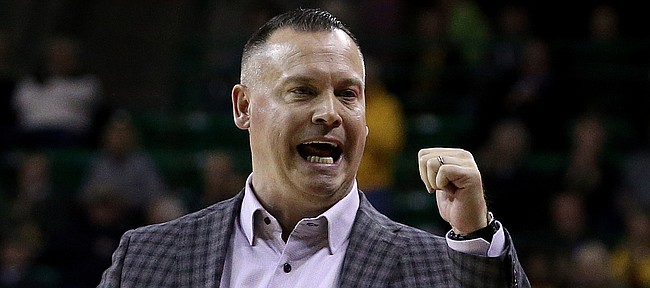 University of Kansas women's basketball coach Brandon Schneider's 2021 recruiting class officially became finalized this week, as the Jayhawks added junior college center Nadira Eltayeb to an incoming group that includes three European freshmen.
Listed at 6-foot-5 and coming to KU with four more years of eligibility remaining, Eltayeb played one season at Eastern Arizona College, where she averaged 6.5 points and 5.9 rebounds.
Schneider said in a KU release he expects Eltayeb, who will be a redshirt freshman, to be a "strong and physical presence" in the Jayhawks' frontcourt.
"She has good interior footwork and a solid repertoire of post moves with the ability to finish with both right and left-handed jump hooks in the paint," Schneider said. "We feel she has the size, mentality and shot blocking ability to protect the rim for us defensively."
The other three members of KU's incoming class are joining the program as true freshmen, and each comes to Lawrence with international playing experience.
A 6-4 center from Thessaloniki, Greece, Danai Papadopoulou has competed in the past for the Greek national team, where she teamed up with another Jayhawk, returning sophomore forward Ioanna Chatzileonti.
Papadopoulou's father, Lazaros, played professionally overseas, and Schneider said the younger Papadopoulou understands what it takes to compete at a high level.
"Danai is a skilled back to the basket post player with good hands, good feet and a soft touch around the rim," the KU coach said.
KU will add more depth to its frontcourt with the help of Matea Nikolic, a 6-4 forward from North Macedonia. Her experience includes playing for the North Macedonian senior national team in the European Championship.
"Matea is a versatile forward with tremendous size and strength," Schneider said. "Her offensive skill set makes her a very difficult matchup, and she has the potential to take our front line to another level."
The lone perimeter player in KU's 2021 class, Sanna Ström is a 5-11 guard from Sweden. In the 2019-20 European Youth Basketball League, Ström averaged 11.4 points and 5.8 rebounds.
"Sanna is a big shooting guard who can score at all three levels," Schneider said. "She has a terrific release with deep range and has a great feel for the game. She's strong and plays tough on both ends of the floor."
With the additions of Papadopoulou, Nikolic and Ström, KU now has seven international players on its roster. The others are Mia Vuksic (Croatia), Chatzileonti (Greece), Katrine Jessen (Denmark) and Julie Brosseau (Canada).