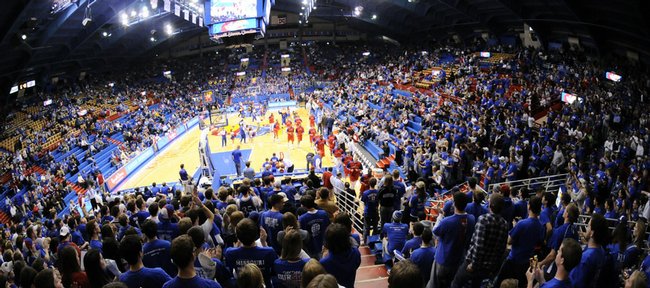 Kansas Athletics lost two longtime, highly respected members of its administrative family on Tuesday, when former KU Athletic Director Monte Johnson and former Associate AD Larry Keating died at the ages of 84 and 76.
Of the two, Keating worked at KU most recently, serving in his role for 16 years before retiring in 2019.
After already building a long and distinguished career in college athletics, Keating joined KU in August of 2003 and served as Senior Associate Athletics Director and as Special Assistant to the Athletics Director until his retirement.
In addition to leading with the wisdom and experiences he gathered as an AD at Seton Hall and Assistant Commissioner of the MAAC, Keating was responsible for building KU's men's basketball schedule, which routinely ranked among the toughest in the country.
"We are all deeply saddened with the passing of Larry," KU coach Bill Self said in a statement. "Larry was an integral part of the Kansas Athletics Department and our program. He played a pivotal role in success that we had during his 16-year tenure. He was solely responsible for putting together schedules that gave us the best opportunity for NCAA Tournament success. More than a colleague, he was a mentor and a friend to everyone that knew him. We're all hurting for his wife Jaime, their son Kerry, and their daughters Jaime and Katie, and their two grandsons. He will be missed."
In addition to the jobs he did at Seton Hall and with the MAAC, Keating was the AD at Adelphi University in Garden City, N.Y., and served on the NCAA Council, the Men's Basketball Issues Committee and two terms on the NCAA Men's Basketball Rules Committee, which he chaired for a total of four years.
He began his career in college athletics as an assistant basketball coach for 10 years, first at his alma mater, Stonehill College, and then at Hofstra University, which he helped lead to the program's first ever NCAA Tournament appearance.
Known as much for his ability to hold court anywhere at any time, Keating was always happy to share stories from his past and often spent the hours leading up to men's basketball games making others laugh in the media room prior to tipoff.
He passed away at his home in Southport, N.C., where he moved after retirement.
Johnson, who was also a former KU basketball player prior to getting into administration, passed away in Lawrence.
He came to KU in 1955 on an academic scholarship after graduating from Wyandotte High School in his hometown of Kansas City, Kan. He was a walk-on on the basketball team and later became a part-time starter on the varsity team that included KU greats Wilt Chamberlain and Bill Bridges. Johnson was a member of the 1957 squad which reached the NCAA finals.
Following his time as a student-athlete at KU, and after an 11-year banking career with Bank IV in Wichita, where he became senior vice president, Johnson returned to KU as the school's 11th athletic director and held that role from 1982-87.
"Monte Johnson was a true Jayhawk through and through, and he will be greatly missed," said current KU AD Travis Goff in a statement. "Every decision he made as the Athletics Director was to better the University of Kansas Athletics department and the student-athlete experience."
Included among those was the hiring of former men's basket-ball coach Larry Brown, who led the program to the 1986 Final Four and 1988 national title. Johnson also played a key role in several facilities improvements, including the construction of KU's home baseball venue, Hoglund Ballpark.
In 1997, the Johnsons donated $100,000 to create a scholarship for KU basketball walk-ons. In 2010, Johnson was presented the Fred Ellsworth Medallion by the KU Alumni Association, given to individuals who have provided unique and significant service to the university.
"Monte's love for the university and the desire to better the lives of others leaves a lasting legacy that will forever be engrained at KU," Goff said.