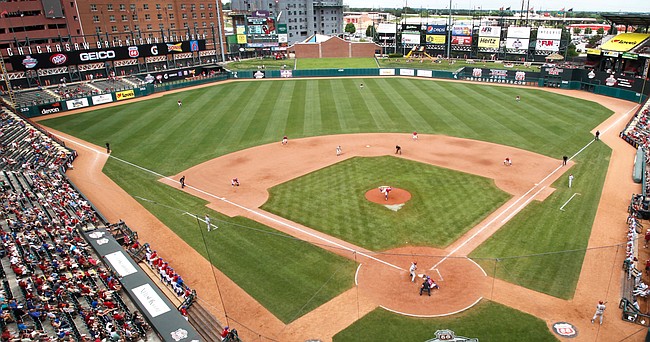 The 2021 Kansas baseball season came to an end Tuesday night in Oklahoma City when KU closer Jonah Ulane walked in the winning run in an 8-7 loss to West Virginia.
The Jayhawks and Mountaineers were playing for the fourth time this season, this time in a play-in game to get into this week's eight-team Big 12 tournament at Chickasaw Bricktown Ballpark.
For a while, it looked as if the ninth-seeded Jayhawks were well on their way to a Wednesday date with top-seeded Texas.
"I couldn't have been more proud of the way our guys swung the bats and competed," KU coach Ritch Price said after the loss, noting that Kansas played without four regular starters in the lineup.
KU jumped out to a big lead after an inning and a half, powered largely by the first home run of the season by freshman shortstop Maui Ahuna.
Ahuna's 3-run blast to right field in the top of the second inning put the Jayhawks up 5-0, but things got tougher from there.
The Mountaineers (24-25) got one run back in the bottom of the second and then tied the game at 5 with a four-run fourth.
The Jayhawks (30-27) nearly got out of trouble in the fourth, but an infield hit that just pulled KU first baseman Conner VanCleave off the bag left the door open and WVU's Matt McCormick tripled to drive in two runs in the very next at-bat.
WVU went ahead with a run in the bottom of the fifth, but Kansas reclaimed the lead with two runs in the top of the sixth, when Ahuna's triple to left center drove in James Cosentino and Tavian Josenberger's single to right brought Ahuna home.
A quiet seventh inning for both clubs left the Jayhawks in front through seven innings, a position that had been good to them throughout the season.
Tuesday's loss was the first for Kansas in 27 games this season in which the Jayhawks led through seven innings.
"Those guys are devastated," KU coach Ritch Price said after the loss. "You get ahead 5-1 like that and you keep adding you think you've got a chance to advance, but unfortunately we couldn't finish the deal."
KU entered Tuesday with an RPI ranking of 51. Price said a win Tuesday would have moved the Jayhawks into the 40s and set up the opportunity to move up 10 more spots with a win over Texas on Wednesday. That outcome, which Price admitted was "a tall task," would have put Kansas in position to play itself into the NCAA Tournament.
Instead, West Virginia picked up a run in the eighth to tie the game and another in the ninth when Ulane walked in the winning run after coming into the game with runners at first and second and one out.
"We were trying not to bring him in, obviously, in a tie game," Price said. "I mean, we've been riding him for four months now and his (velocity) is down a little bit. Unfortunately, once they got the guy to second base, we really had no alternative other than to bring him in."
WVU 8, KU 7
Kansas 140 002 000 — 7 14 1
West Virginia 010 410 011 — 8 14 2
Win: Jacob Watters Loss: Daniel Hegarty
Highlights for KU: Maui Ahuna 4-for-5, 3 runs, 4 RBI, 2 3B, HR; Tavian Josenberger 3-for-5, 2 RBI, 2B; Tom Lichty 3-for-5, run, 2B; James Cosentino 1-for-3, 2 runs.