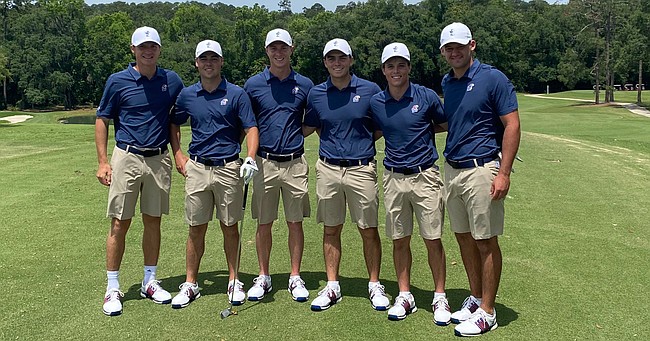 The Kansas men's golf team stayed alive in the hunt for a spot at nationals until the final hole during Wednesday's third and final round at Seminole Legacy Golf Club in Tallahasse, Fla.
But the Jayhawks' strong showing on Day 3 came up just short and Kansas finished seventh out of 14 programs in the final team standings, just three shots behind TCU for fifth.
The top five teams earned spots at the NCAA Championships later this month.
Jamie Bermel's Jayhawks, who finished ahead of three teams ranked nationally in the top 45 this week, entered Wednesday in seventh place, needing a few low rounds to have a chance to advance.
They got one from freshman Sion Audrain, who was playing in the No. 5 spot. After firing a 76 and 72 in the event's first two rounds, Audrain shot a 4-under-par 68 on Wednesday, which was the best single-round score of the week by any of the five Jayhawks who competed.
"Sion has made great progress since the middle of March," Bermel said after Wednesday's round. "I was really proud of his 68 today. He hit a bad tee shot on 1, hit it out by the green and chipped in for birdie. From there, he just took off."
For a while, the Jayhawks had moved into the No. 5 spot in the team standings behind strong rounds from Audrain, junior Harry Hillier and freshman William Duquette. But the hot streak cooled off and KU fell victim to a few late bogeys that knocked them out of the top five.
Hillier (71) and Duquette (72) stepped to the tee at hole No. 18 needing to both birdie to pull Kansas into a tie for fifth place with TCU. But Duquette, who played it first, bogeyed and Hillier, who shot a blistering 4-under on the front nine Wednesday followed with a par.
"I don't coach and the guys don't play for moral victories, but I am extremely proud of the fight we had this week," Bermel said.
KU individual scores
Harry Hillier – 70-69-71 – 210
William Duquette 71-73-72 – 216
Sion Audrain 76-72-68 – 216
Luke Kluver 73-73-73 – 219
Ben Sigel 74-72-73 – 219
Final Team Standings
1 – Florida State -34 (830)
2 – Georgia -17 (847)
3 – Georgia Tech -16 (848)
4 – Liberty -15 (849)
5 – TCU -9 (855)
6 – Ohio State -7 (857)
7 – Kansas -6 (858)
8 – Georgia Southern E (864)
9 – Indiana +5 (869)
T10 – LSU +10 (874)
T10 – Davidson College +10 (874)
12 – USC +31 (895)
13 – Florida A&M; +38 (902)
14 – Long Island +71 (935)