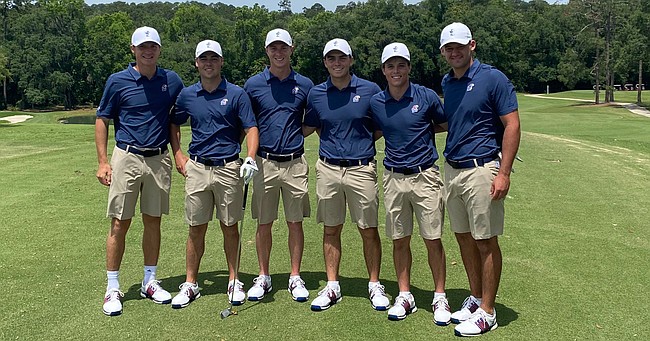 The Kansas men's golf team improved its score by two strokes but dropped a spot in the standings after Tuesday's second round of NCAA Regionals in Tallahasse, Fla.
KU fired a team score of 286 to sit at -2 for the tournament and the Jayhawks are now five strokes out of fifth place heading into Wednesday's third and final round at Seminole Legacy Golf Club.
The top five teams and the top individual not on a qualifying team will advance to nationals later this month.
Junior Harry Hillier led Kansas for a second consecutive day, firing a 3-under-par 69 on Tuesday that moved him into a tie for ninth place in the individual standings. Hillier is 5-under through two rounds.
Ben Sigel and Sion Audrain both improved their scores from Round 1 and shot even-par 72s. And William Duquette and Luke Kluver shot 73s.
KU fell one stroke behind TCU (-3) and is one stroke ahead of Georgia Southern (-1), and all three teams are chasing fifth-place Ohio State, which sits at -7 entering the final round.
"We need everyone playing well and a couple of low scores to advance," Bermel told the Journal-World via text message after the completion of Tuesday's round. "We'll need to play a little more aggressive than normal. If we don't go low our season is over."
KU individual scores
Harry Hillier – 70-69 – 139
William Duquette 71-73 – 144
Luke Kluver 73-73 – 146
Ben Sigel 74-72 – 146
Sion Audrain 76-72 – 148
Team Standings through 2 Rounds
1 – Florida State -24 (552)
2 – Liberty -16 (560)
3 – Georgia Tech -13 (563)
4 – Georgia -9 (567)
5 – Ohio State -7 (569)
6 – TCU -3 (573)
7 – Kansas -2 (574)
8 – Georgia Southern -1 (575)
T9 – LSU +4 (580)
T9 – Indiana +4 (580)
11 – Davidson College +9 (585)
12 – USC +22 (598)
13 – Florida A&M; +32 (608)
14 – Long Island +28 (623)