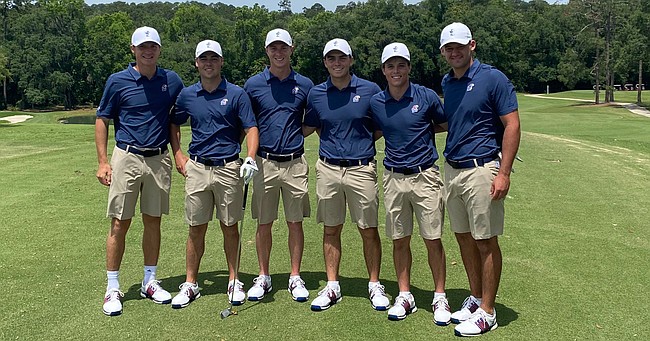 The Kansas men's golf team finished Round 1 in a tie for sixth place at the 14-team NCAA Regional tournament in Tallahassee, Fla.
The Jayhawks shot an even-par 288 as a team and head into Round 2 on Tuesday 3 shots behind Georgia for fifth place. The top five teams at the Tallahassee Regional advance to the NCAA Championship later this month.
The Jayhawks spent most of Monday inside the top five. But a few bogeys over the final four or five holes from all five players on the course at Seminole Legacy Golf Club dropped the team down the rankings a few spots.
"We got off to a solid start and couldn't quite get the round finished off," KU coach Jamie Bermel told the Journal-World via text message after the completion of Monday's round. "We just made a few careless mistakes and moved from third to sixth quickly."
Junior Harry Hillier, who played in the No. 1 spot for KU, led the way with a 2-under par 70. After birdies at No. 2 and No. 3 to get his round started, Hillier carded five birdies in an eight-hole stretch, from No. 7 to No. 14, to move to -5 for the round. But he gave three of those strokes back with bogeys on his final three holes.
William Duquette, playing in the No. 4 slot, fired a 1-under 71, with four birdies in his first eight holes. Freshman Luke Kluver shot a 73 and Ben Sigel fired a 74 out of the No. 2 and No. 3 spots for the Jayhawks. Kluver's day included an eagle 2 at No. 7 and a double-bogey 6 at No. 12. Those were the only scores that dipped below birdie or above bogey on all five KU scorecards during the opening round.
Sion Audrain, who played in the No. 5 role, shot a 76 and his score was not used in KU's opening-round team score, which takes the four best rounds from each team.
Host school Florida State, which placed four golfers among the top nine in the entire field, enters Round 2 with a team score of -17. Georgia Tech (-11), Liberty (-5) and Ohio State (-4) join Georgia (-3) in rounding out the top five.
Kansas and Davidson College will begin Tuesday's second round two shots up on Indiana and TCU and three ahead of Georgia Southern and LSU.
"Still a lot of golf left to play," Bermel noted. "The good news is we are still in the middle of this event."
KU Round 1 Individual Scores
Harry Hillier -2 (70)
William Duquette -1 (71)
Luke Kluver +1 (73)
Ben Sigle +2 (74)
Sion Audrain +4 (76)
Round 1 Team Scores
1 – Florida State -17 (271)
2 – Georgia Tech -11 (277)
3 – Liberty -5 (283)
4 – Ohio State -4 (284)
5 – Georgia -3 (285)
T6 – Kansas E (288)
T6 – Davidson College E (288)
T8 – Indiana +2 (290)
T8 – TCU +2 (290)
T10 – LSU +3 (291)
T10 – Georgia Southern +3 (291)
12 – Florida A&M; +13 (301)
13 – USC +14 (302)
14 – Long Island +19 (307)