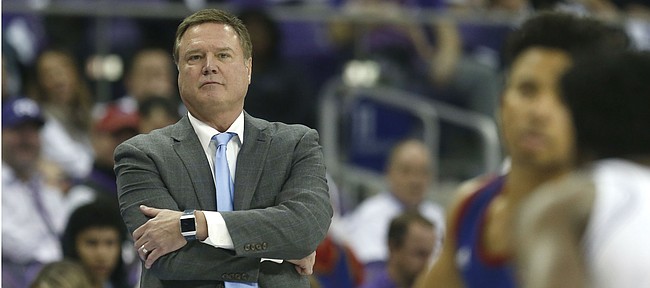 The Kansas Legislature wrapped up its most recent session last weekend without passing a name, image and likeness bill that initially passed in the Kansas House.
A handful of other states have passed similar bills allowing athletes at their universities to capitalize on the NCAA's recent change of heart on student-athletes making money off of their name, image and likeness through endorsement deals.

Asked about the situation on Thursday, Self expressed disappointment.
"I'm not a politician, I don't understand how it all works," Self told the Journal-World. "But I know that all the universities (in Kansas) are certainly disappointed that the name, image and likeness did not pass. We are now hoping that the federal government or the NCAA will step in and mandate something that could kick in before (whatever) the state of Kansas (potentially does) would kick in."
If not, Self warns about a potential future scenario in which coaches and athletic programs at KU, Kansas State University and Wichita State University and other NCAA schools in the state could find themselves at a disadvantage.
"There's a chance that we'll be recruiting our athletes in all sports at a different level of playing field than what other states could be recruiting their people," Self said. "That is not positive for colleges. Regardless of what league you're in, if your fellow competitors are at a recruiting advantage over you, it's going to be very difficult."
According to a Thursday report from KansasReflector.com, state Republicans tied the NIL bill to a ban on transgender athletes in school sports.
Kansas Gov. Laura Kelly vetoed the bill, and her veto held up by one vote in the Senate, where lawmakers had attempted to override it.
"The two are completely and totally unrelated," Kelly said, ac-cording to the Reflector. "If they're going to come again to the Legislature, they ought to come clean."
According to a recent report from the Topeka Capital-Journal, Senate President Ty Masterson said he would not take up the NIL bill without reconsidering the transgender athletes ban. The Journal-World's efforts to reach Masterson were unsuccessful.
"It's very disappointing that the name, image and likeness did not pass," Self said. "I'm talking only about name, image and likeness. I'm not talking about anything else. But I am hopeful, and I believe this to be true based on comments since then, that Congress and/or the NCAA will have something in place in a timely manner."