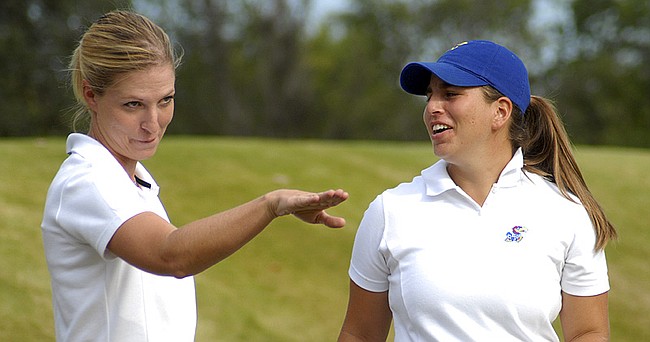 The Kansas women's golf program is looking for a new head coach following the Friday resignation of longtime leader Erin O'Neil.
O'Neil, who led the program for 17 seasons, said in a statement that the challenges brought about by the pandemic, specifically her inability to be close to her parents in Florida, played a big role in her decision to step down, which she called "very difficult and bittersweet."
"I know this is the right decision because it will allow me to spend more time with my family and pursue other professional opportunities," O'Neil said in a news release announcing her resignation.
O'Neil's 17 seasons in charge of the program made her the longest tenured women's golf coach in KU history. During that time, she led the Jayhawks to 13 tournament team titles, 52 top-5 finishes and 87 top-10 showings and 18 individual titles.
Her time also included a stretch of three consecutive appearances at NCAA Regionals, including the first ever trip to Regionals in 2014.
KU women's golf achieved several other firsts under O'Neil's leadership, including their highest Big 12 tournament finish in 2014 (4th) and the team's first trip to nationals since 1990 that same year.
O'Neil's golfers carded 32 of the 33 lowest individual scores in school history, with 28 of the program's 29 lowest season stroke averages coming in the O'Neil era, as well. In addition, she led 27 golfers who earned Women's Golf Coaches Association All-American Scholars honors and 66 who were named academic all-Big 12.
"We are incredibly grateful for coach O'Neil's dedication and impact on so many student-athletes and the University of Kan-sas," first-year KU Athletic Director Travis Goff said in the re-lease. "Erin has led hundreds of Jayhawks with dedication and passion during her time at KU. While I know this was a difficult decision for her, I am thrilled to know she will continue to be a resource for Kansas women's golf in the weeks and months ahead."
O'Neil said in her statement that she felt good about the future of the program and thanked KU's athletic department for its support and leadership during her time, along with associate head coach Katy Nahm for putting her "heart and soul into our team on a daily basis for the last 10 years."
"I am very grateful for the opportunity I have had to coach at KU for the last 17 years," O'Neil said. "I will always be a Jayhawk no matter where I am."