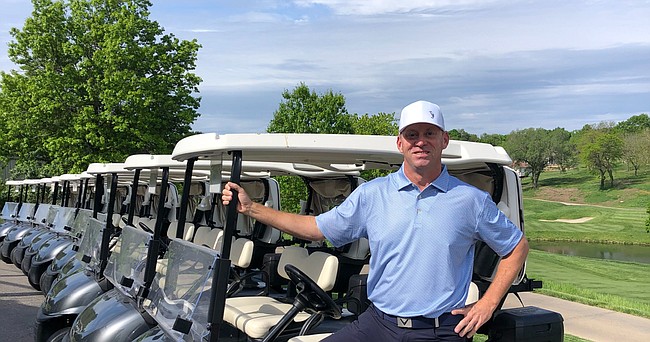 Lawrence Country Club has a new head golf pro and his title is merely a variation of the one he's had for the past two decades.
Former University of Kansas All-American Chris Thompson, a 44-year-old Independence native, recently accepted the job as the club's new golf guru, transitioning from playing professional to club pro.
The move for Thompson comes at the end of a 20-plus year career that featured dozens of highlights, the most notable of which came in 2019, when he earned his PGA Tour card for the 2019 season after years of chasing it on pro golf's mini tours.
Although his time on tour did not go as well as he would've liked, Thompson said having a quiet year in 2020 because of the pandemic allowed him to gain closure on his full-time playing career.
"I don't know how you know when it's time to move on," Thompson said in a Friday interview at LCC. "Sometimes it's just a feeling. And having that COVID year gives you a little time to reflect and say, 'You know, it was a pretty cool accomplishment.'"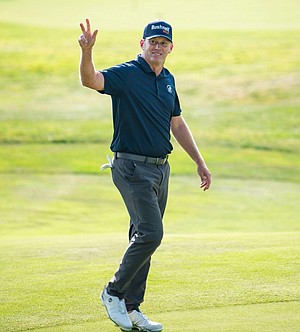 Thompson still hopes to play professionally from time to time, be it on the Korn Ferry Tour or in qualifying tournaments for PGA Tour events. But he also has reached the stage in his life that has him ready to shift his focus entirely to his new job.
The opportunity at LCC came by chance. Lawrence Country Club General Manager Aaron Weber said the club, after going through four different head golf pros in the past six years, was looking for stability at the position.
Thompson heard about the opening through friends, and Weber said LCC president Joe Jones was the first to bring up the idea of approaching Thompson, a longtime LCC member, about the job.
"I hadn't even really thought about Chris," Weber told the Journal-World. "But when Joe first mentioned him as an option, I thought to myself, 'That could be really cool.'
"It was the perfect hire. He knows the club so well and we're looking for longevity in that position. That was the biggest thing for us. The club needed to find that 20-year guy again."
That made the opportunity even more appealing for Thompson, who has deep roots in Lawrence and admits that he grew tired of missing out on his kids' events, including golf, while out on the road.
He said he played more golf with his son, 13-year-old Henry, in the past year than he had the past three or four years combined, and the idea of being around more for him and his daughter Landry, 10, played a major role in his decision to take the job.
It was after he struggled through a Monday qualifier in San Antonio for the PGA Tour's Valero Open in April that Thompson first thought to himself that it might be time to move on to something else. A few days later, the opportunity at LCC presented itself.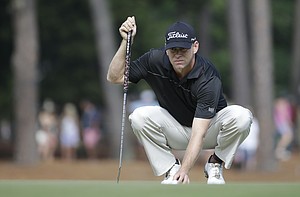 "Talk about timing," he said.
Thompson said he never really thought about becoming a club pro when he was younger. He was too busy then dreaming about creating a professional playing career.
But now that the moment has arrived, he plans to attack his new job the way he went after tough pins and birdies on the golf course.
"I had a decent amount of success playing. That's what I do best," he said. "And I think there's value in being able to do what you do best. But I think I can kind of morph that into the golf business because I've been able to see how things are run everywhere in the country and sometimes around the world."
Thompson has plans for LCC. And he hopes to create a junior golf program that's second to none. Those visions will be brought along slowly as he learns the ropes of all the regular duties of a club pro. Those include everything from running the pro shop and keeping track of inventory to making schedules, managing tee sheets, giving lessons and, of course, playing.
Rather than playing for money or status, Thompson now will be playing to ensure the club's members enjoy the experience and challenges that LCC can offer.
Thompson estimates that he'll play twice a week to start out, and he calls that part of his new job one of the many ways in which he plans to start giving back to the game that has given him so much throughout the years.
"You're always thinking how can I make this place better," Thompson said. "How can I add value to LCC? And I've seen ways to do that. This was a great place before me and it'll be a great place after me, but while I'm here I'm going to try to create some content for members that maybe hasn't been done around here."
Added Weber, who took over as LCC's GM one year ago: "The transition to Chris has been pretty easy. And now we've got the talent and personality in the pro shop to match what people already knew was an amazing course. It's just a very exciting time for us."