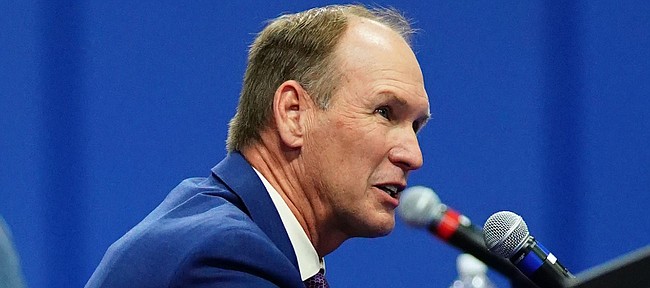 In a busy first week on the job for new University of Kansas head football coach Lance Leipold, much of his daily calendar from Monday on has been booked with one-on-one meetings with the players.
Leipold said Thursday evening during his debut on KU's "Hawk Talk" radio show he had just completed his latest marathon of meetings — 25 players a day — before driving over to Johnny's Tavern West Lawrence for the broadcast.
"Twenty-five more tomorrow, or close to it," Leipold said of his schedule.
"I don't want to say overwhelming," he added, "but it's keeping us going at this time."
Leipold, who admitted with all the running around he's done at his new job he sometimes needs someone to point him in the right direction, said the conversations with KU's players have been "great."
"Meeting with those players and seeing how anxious and hungry they are and determined to build the program that everyone deserves here is really exciting," he said.
The one-on-one time with the Jayhawks, Leipold explained, has more to do with getting acquainted than anything else.
"I want to hear about them," he said, "their background, what they're majoring in, how school's going, tell me a little about their family — things like you would have in the recurring process. Very little about football."
Of course, the conversation does involve at least a little football talk, too.
"What they're seeing, where things are at and what they're excited about, maybe how their spring went," Leipold said of topics generally covered. "But more importantly we got some academic updates."
The coach noted some of the players are close to finishing up the spring semester and going home to see family members for a few weeks. Leipold said that will be a welcome break for the Jayhawks, before players return to campus for summer classes and strength and conditioning.
"It's been a long year," Leipold said. "And for them as (players), they've had to do so many things just to get the opportunity to compete and practice."
Leipold 'getting close' to finalizing staff
Although Leipold wasn't able to publicly discuss any specific plans he has for his KU football staff, he referenced his intentions to retain some KU assistants and bring in coaches from Buffalo with whom he's worked for years — as reports have indicated.
"There's some outstanding coaches here that we definitely want to have with us moving forward," Leipold said.
He added: "I would not be sitting here with all of you tonight if it wasn't for some of the people I've worked with for quite a while back in Buffalo."
His hope is to "blend" the two sides together — "get some philosophical things that were going really well here and put some things of our flavor" — while building the program for the longterm and setting a foundation "as quickly as possible."
Leipold also noted he's expecting to be able to announce KU's strength coach "pretty soon." Ben Iannacchione, hired by Les Miles, held that position for the past year-plus.
"I think we're getting close," Leipold said of finalizing the staff. "I really like the way it's coming together, having a chance to meet people here."
His expectation is that KU will have the staff it needs on the field and on the recruiting front, with everything he's hoping to accomplish.
Happy birthday, coach
Leipold's first appearance on "Hawk Talk" happened to fall on the KU head coach's birthday. The former Wisconsin-Whitewater and Buffalo head coach turned 57 on Thursday.
To celebrate, KU's director of football relations, former standout defensive back Darrell Stuckey, delivered a birthday cake to the new head coach as part of the show.