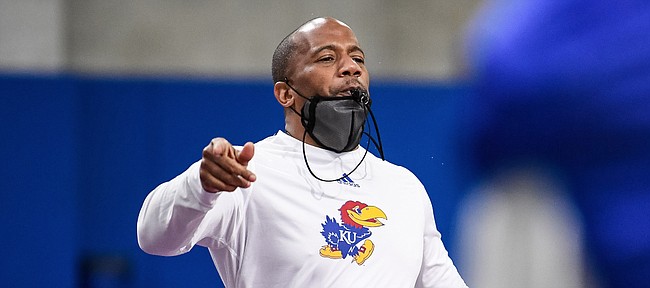 After leading the Kansas football program through an uncertain spring as the interim head coach, Emmett Jones reportedly will be sticking around and working with the Jayhawks' new boss, Lance Leipold.
According to Yahoo Sports' Pete Thamel, as Leipold assembles his first staff at KU, Jones, a popular receivers coach in his third year with the program, is expected to be retained.
Thamel also reported Leipold plans to keep defensive backs coach Chevis Jackson, defensive line coach Kwahn Drake and inside linebackers coach Jacob Schoonover as KU assistants.
Jones, Jackson and Drake were among former KU head coach Les Miles' first hires when he took over the program in late 2018. Schoonover was hired by Miles earlier this offseason.
Earlier in the week, reports surfaced of Leipold bringing a number of his former Buffalo assistants to Lawrence. That group includes his longtime top assistants, offensive coordinator Andy Kotelnicki and defensive coordinator Brian Borland.
It's possible some of Leipold's former UB assistants — at least seven are reportedly planning to join him at KU — will take on non-coaching roles, as Leipold meshes assistants he knows well with some who the Jayhawks know well.
According to Thamel, it's possible KU running backs coach Jonathan Wallace and safeties coach Jordan Peterson could find roles on Leipold's staff, too. That could mean they potentially stay on as analysts or some other type of support staffers.
NCAA rules allow for a head coach to have 10 full-time assistants who handle on-field coaching responsibilities.
KU has yet to announce any of Leipold's hires or decisions about retaining assistants.