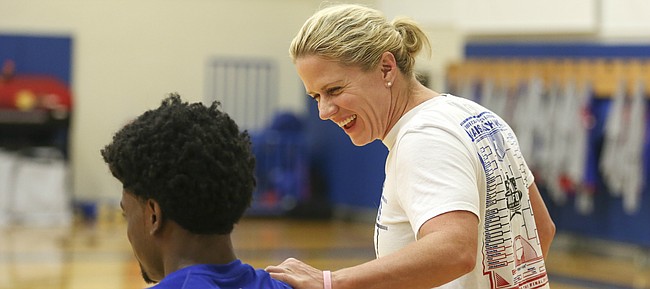 Former University of Kansas men's basketball strength coach Andrea Hudy is headed back to where it all began.
After two years at Texas following a 15-year career with Bill Self at Kansas, Hudy is returning to UConn to take over as the director of sports performance for Geno Auriemma's women's basketball program, the school announced Wednesday.
Hudy, who earned her Master's degree from UConn in 1999, worked in a similar role with the Huskies from 1995-2004 before coming to Kansas.
"We're beyond excited to bring in someone like Andrea Hudy," Auriemma said in a Wednesday news release announcing her return. "She's been here before and knows what the expecta-tion level is. She had a lot of success here, and at Kansas, and at Texas. To get one of the premier strength and condi-tioning coaches in men's or women's basketball was a great opportunity for us. We've had great success here with our strength and conditioning. I think Hudy being here, especially with such a young team this year, gives us an opportunity to add to what we've been doing here all this time."
Hudy found herself looking for work again after Shaka Smart, who wooed her away from KU, left Texas to take over as the head men's basketball coach at Marquette.
She said in a tweet on Wednesday morning that returning to UConn was a "full circle" moment in her career.
"Having started my career here over 26 years ago created a solid foundation for me in sports performance, and to be a part of UConn again is a great opportunity," Hudy said in the re-lease. "It will be a great experience to see such a familiar place with new perspectives."
During her time at KU, the Jayhawks produced 35 NBA Draft picks, including 11 lottery selections.
Hudy received an MBA from KU in 2019 and, two years earli-er, she was honored by the National Strength and Condition-ing Association with the Impact Award, given to an individual whose career has greatly contributed to the advancement of the national or international strength and conditioning or fit-ness industries.
Ramsey Nijem replaced Hudy at KU after her departure in 2019 and he remains with the program.