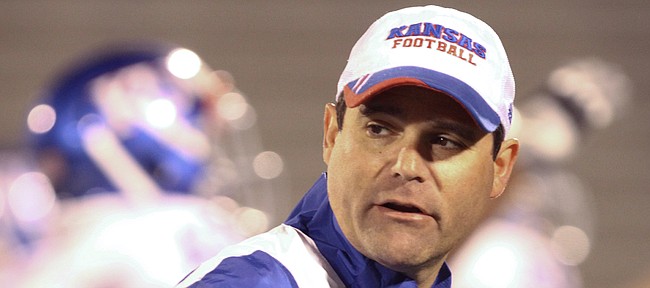 A fleet of Buffalo assistant coaches reportedly will soon be on the way to Lawrence to reunite with new Kansas head football coach Lance Leipold.
According to a Monday report from Yahoo Sports' Pete Thamel, Leipold plans to hire seven members of his former staff as he takes over at KU.
The long list of new staffers for the Jayhawks includes Buffalo's current interim head coach, Rob Ianello. The Bulls' associate head coach and recruiting coordinator under Leipold, Ianello years back was a receivers coach at KU, on Charlie Weis' staff.
Per Thamel's report, Leipold plans to bring in both his offensive and defensive coordinator from Buffalo, as well: the Bulls' offensive coordinator and wide receivers coach Andy Kotelnicki and their defensive coordinator and safeties coach Brian Borland.
A source with knowledge of Leipold's plans told the Journal-World defensive coordinator and linebackers coach DJ Eliot will not be retained.
KU's most recent offensive coordinator hire, Mike DeBord, as of Monday had removed any mention of KU football from his Twitter bio.
Also reportedly on their way to KU are Buffalo linebackers coach and co-defensive coordinator Chris Simpson, quarterbacks coach and co-offensive coordinator Jim Zebrowski, offensive line coach Scott Fuchs and defensive ends coach and special teams coordinator Taiwo Onatolu.
Thamel also reported some of the roles the former Buffalo assistants will take on at KU have not yet been determined.
It's possible some of the UB assistants could join KU in non-coaching roles.
A source familiar with the staffing transition told the Journal-World current KU assistants Chevis Jackson (cornerbacks) and Kwahn Drake (defensive line) remained in the mix to stick around on Leipold's staff. It's possible Jackson, Drake and/or other assistants could ultimately stay at KU.
Leipold on Monday during his introductory press conference didn't rule out the possibility of retaining some former Les Miles assistants as holdovers on his first coaching staff at KU. But Leipold also seemed to allude to the fact that his staffing decisions won't solely be based on a successful transition in 2021.
"As we put this staff together, this isn't for one season," Leipold said. "We are going to put a staff together for the future."
KU and Leipold have not yet made any announcements about assistant coaches staying or new hires.
Below are the 10 on-field assistants who led the Jayhawks through spring football and were on Miles' staff before he left the program:
• DJ Eliot, defensive coordinator and linebackers coach
• Mike DeBord, offensive coordinator and quarterbacks coach
• Emmett Jones, receivers coach and passing game coordinator
• Chevis Jackson, defensive backs coach
• Kwahn Drake, defensive run game coordinator and defensive line coach
• Josh Eargle, tight ends coach and recruiting coordinator
• Jordan Peterson, safeties coach
• Jonathan Wallace, running backs coach
• Lee Grimes, offensive line coach
• Jacob Schoonover, outside linebackers coach and special teams coordinator