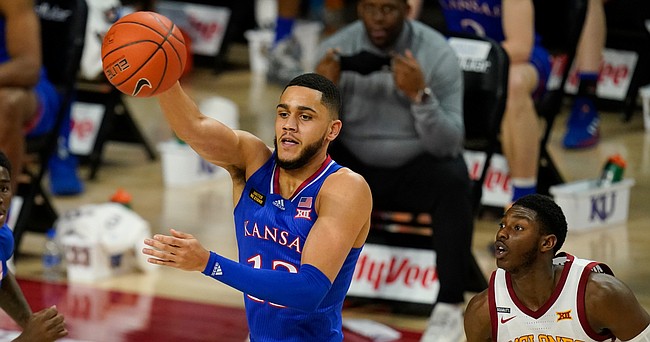 Kansas basketball coach Bill Self told the Journal-World on Tuesday that KU sophomore Tristan Enaruna was leaving the program and had entered his name into the transfer portal.
Enaruna becomes the second Jayhawk to announce his plans to leave this week, following the lead of junior guard Tyon Grant-Foster, who entered the transfer portal on Monday.
Enaruna's departure opens up another scholarship for the Kansas coaching staff to fill.
"Tristan and I met this morning and he informed us that he will be entering the transfer portal," Self said Tuesday.
The Netherlands native's two-year career at Kansas was marked by two words — casual and potential.
Throughout his time with the Jayhawks, which included 55 games over two seasons, Enaruna drew some of the most attention from NBA scouts at KU games and practices.
His blend of length, size and athleticism along with his smooth skills on offense made him an appealing prospect.
But Self talked throughout Enaruna's time with the Jayhawks about the 6-foot-8, 215-pound wing's casual demeanor holding him back, particularly on the defensive end.
Enaruna's scoring went up slightly during his second season with the program — from 2.4 points per game to 2.8 — but his usage was down. He averaged 1.5 minutes per game less in 2020-21 than he did on last season's 28-3 team despite receiving a much bigger opportunity with KU looking to replace All-Americans Devon Dotson and Udoka Azubuike and playing a lot of four- and five-guard lineups.
Enaruna, who came to KU from Wasatch Academy in Utah, finished his Kansas career averaging 2.6 poits, 1.9 rebounds and 0.5 steals in 10.2 minutes per game.
He did not log a single minute in any of KU's four games in March and played just 14 combined minutes in the final four games he appeared in this season, scoring 2 points on 1-of-5 shooting.
He was not with the Jayhawks in Indianapolis for the NCAA Tournament or in Kansas City for the Big 12 tournament after first entering COVID-19 protocol and then testing positive before the team left for Indianapolis.
That came after a stretch when Enaruna played double-digit minutes in nine of 11 games from Jan. 2 through Feb. 8 and included a season-high 20 minutes in a win over Kansas State, in which he scored four points and grabbed four minutes.
"Obviously, this was a difficult finish for Tristan this year, with the COVID situation and not being able to finish the season with the team," Self said. "He represented himself, his teammates, our program and our university with first-class daily and he will be missed. His best ball is ahead of him and we all support his decision and wish him well."
Despite the quiet season and rough finish, Enaruna posted his appreciation for his time at Kansas on his social media accounts on Tuesday evening.
"I want to thank everybody that has been a part of my 2 years being a Jayhawk," he began. "I have had an incredible time from the moment I first stepped onto campus all the way to today. ... I am forever grateful for the opportunity to have been a part of this basketball program."
Enaruna went on to thank his coaches, teammates and the KU fans before sharing his "difficult decision" to move on and enter the transfer portal.
"After a long thought process, I figured that this is the right thing to do," he added. "I'm excited to see what the future holds."
Self said after the season-ending loss to USC last week that the Jayhawks needed to get more athletic to rejoin the conversation as national title contenders.
And while Grant-Foster and Enaruna were two of KU's more athletically gifted players in 2020-21, it appears as if the Jayhawks are looking to get more explosive and athletic in the backcourt and frontcourt, with 2020-21 starters Ochai Agbaji, Christian Braun and Jalen Wilson all capable of playing the wing spot next season.
The Kansas coaching staff has been hard at work during the past week connecting with potential additions to the roster.
That includes a number of prep prospects who remain uncommitted or recently backed out of commitments — guards Ty Ty Washington and Bobby Pettiford and big man Jonas Aidoo most notable among them — and players in the transfer portal, with Kansas City senior guard Brandon McKissic currently sitting as one of the top options on that list.
With new players entering the portal every day, the Jayhawks will continue to monitor their options in the days and weeks ahead and also will have to see if any more current players transfer out or elect to leave school early as they look to reshape their roster for the 2021-22 season.