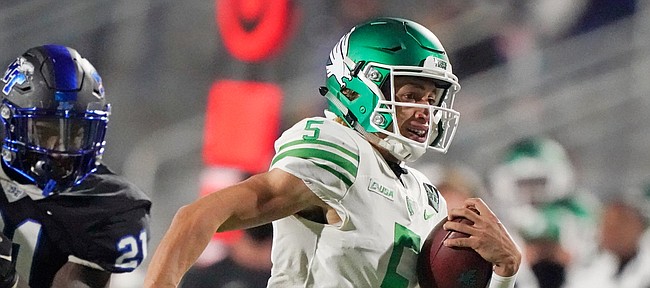 The Kansas football team's quarterback competition has a new contender. A former starting QB at North Texas, Jason Bean announced Friday his plans to transfer to KU and join the Jayhawks.
Listed at 6-foot-3 and 189 pounds on the Mean Green's roster in 2020, Bean started in seven of the team's 10 games as a redshirt sophomore before deciding to move on from the Conference USA program.
Bean was involved with a QB competition at North Texas throughout much of what would be his final season with the team. He finished with a 54.5% completion percentage, and threw for 1,131 and 14 touchdowns in eight appearances in 2020. Bean went 79-for-145 through the air, with five interceptions.
Known for his speed, Bean gave UNT a rushing element as a QB, too, and averaged 6.2 yards per carry, while running for five touchdowns this past season.
In an interview with Jon Kirby of Jayhawk Slant, Bean said he was excited to join KU football and pointed to his interactions with interim head coach Emmett Jones as a primary factor in his decision.
"The way he has handled the situation has been amazing," Bean said of Jones. "He's up front and told me what it is, and I liked what I heard from him and the staff."
Bean told Jayhawk Slant that he will move to Lawrence and join the Jayhawks this summer.
Bean announced in January that he was entering the transfer portal. As a high school prospect out of Mansfield, Texas, in the Class of 2018, Bean was rated as a two-star prospect by Rivals. He reportedly also had scholarship offers from Colorado State, Louisiana Tech, Southern Methodist and Liberty.
During the past two seasons at UNT, Bean played in 15 games, though he was much more involved in the game plan as a redshirt sophomore. In 2019, when Bean was a redshirt freshman, he completed 22 of 35 passes (62.9%) for 176 yards, with three TDs and three interceptions. He also ran for 80 yards on 13 attempts.
In December of 2020, Bean turned in two of the better statistical games of his career. He went 17-for-30 passing in a loss to Louisiana Tech, throwing for 231 yards, with three TDs and one interception. In his final game in a UNT uniform, Bean finished 21-for-36 through the air, for 251 yards, two TDs and an interception in a bowl loss to Appalachian State.
KU, of course, heads into spring practices next week with no clearcut starting QB for the 2021 season.
While Bean won't be able to practice with KU this spring, he will bring more playing experience as a college QB into preseason camp this summer than either of KU's returning QBs — Jalon Daniels and Miles Kendrick — or the true freshman QBs — Ben Easters and Conrad Hawley.