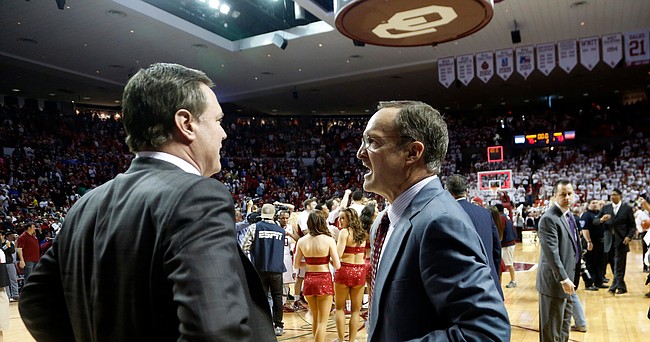 After 45 years in coaching, the last 10 coming as the head basketball coach at Oklahoma, Sooners coach Lon Kruger is retiring at the age of 68.
Oklahoma announced the news on Thursday afternoon and the school's athletic department has planned a press conference for 9:45 a.m. Friday.
The Silver Lake, Kan., native who spent time at Kansas State (1986-90), Florida (1990-96), Illinois (1996-2000) and UNLV (2004-11) prior to landing at Oklahoma, racked up 674 career victories and 20 NCAA Tournament appearances during his time as a head coach.
Kruger, who also spent three seasons as the head coach of the Atlanta Hawks, is one of just three coaches to lead five different programs to the NCAA Tournament.
He reached five Sweet 16s and two Final Fours (with Florida in 1994 and OU in 2016) and walks away with the respect and admiration of everyone he worked with and coached against.
"I'm very happy for Lon to leave on his own terms," Kansas coach Bill Self said Thursday in a statement released by KU. "I wish him nothing but the best in retirement. Being around (his son) Kevin, his family and the grandkids in (Las) Vegas, sounds like, to me, a pretty good way to spend retirement."
Kevin Kruger was recently named the new head coach at UNLV, where he played for his dad during the 2006-07 season.
Self, whose Jayhawk teams were 16-5 against Kruger's Sooners from 2011-21, always praised Kruger's program before and after the Jayhawks and Sooners squared off.
"I had the opportunity to follow Lon at Illinois," Self said Thursday. "And (I) saw firsthand what a class program he ran. I have enjoyed competing against him at his different stops, but primarily at the University of Oklahoma, where his teams were always classy and difficult to prepare for. I know personally the respect he commands in our industry and I'm sure his former players, assistant coaches and everyone affiliated (with) his programs over time would attest to the way he went about his business."
Kruger's departure leaves Oklahoma athletic director Joe Castiglione searching for both a men's and women's basketball coach, as longtime OU women's coach Sherri Coale also announced her retirement earlier this month.