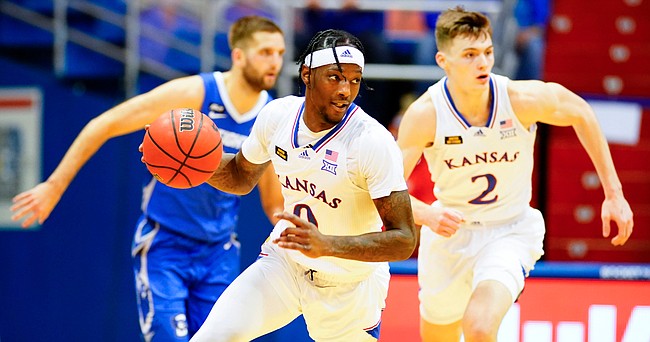 No. 3 seed Kansas Jayhawks (20-8) vs. No. 14 seed Eastern Washington Eagles (16-7)
Time: 12:15 p.m., Saturday, March 20, 2021
Location: Indiana Farmers Coliseum, Indianapolis, Ind.
TV: TBS | Radio: IMG Jayhawk Radio Network
Log on to KUsports.com for our live game blog coverage and follow the KUsports.com staff on Twitter: @KUSports @mctait @bentonasmith & @SJacksonLJW
Keys for Kansas
1. 70-point threshold
It's been weeks since Kansas coach Bill Self first explained how his team needed to get comfortable playing — and winning — games in the 60s.
So, on the surface, ear-marking 70 as an important number in this matchup makes sense. But the 70-point plateau is about more than just the Jayhawks this time around. It also has significance for Eastern Washington, which averages 78 points per game and likes to play at a pace that ranks 28th nationally at 72.4 possessions per game.
Double-digit seeds looking to spring first-round upsets in the NCAA Tournament often prefer to slow the game down, which can limit the number of possessions for the more talented team and bring greater importance to the mistakes made by the favorite.
Given the circumstances, it's possible that EWU will look to follow that recipe. But if the Eagles choose to play true to their style, which, on average, leads to more possessions than Kansas typically gets (68.3 per game, 186th nationally), how fast the teams put up points could become a major factor.
Eastern Washington was 13-3 this season when scoring 70 points or more and just 3-4 when held to fewer than 70 points.
The Jayhawks meanwhile, were 18-0 when holding their opponents under 70 points and 2-8 when giving up more than 70.
It's worth noting that Kansas scored 70 or more 13 times this season. So it's not as if the Jayhawks can't put up points or aren't comfortable doing so. But it can't be overlooked that when offense took center stage in KU's games this season things did not go very well for the Jayhawks.
2. All hands on deck down low
Regardless of how many minutes KU junior David McCormack can or can't play, the Jayhawks are going to need to take a team approach to containing Eastern Washington big man Tanner Groves and the rest of EWU's post players.
Few teams in the country get the kind of offensive production from the center position that the Eagles do, ranking 13th national with 28% of their scoring coming from the 5 spot.
Technically listed as a forward on the EWU roster, Groves often plays as the Eagles' lone big man and thus has been tracked by KenPom.com as the 5 man on the floor 64% of the time.
Junior Kim Aiken, who stands just 6-foot-7, 215 pounds, registered as the Eagles' 5 30% of the time, and the two bigs were EWU's leading scorers at 16.4 points and 11.7 points per game, respectively.
It's the 6-9, 235-pound Groves, however, who prefers to use his size and strength down low. On a normal day, McCormack would match up well with the Big Sky Conference's Player of the Year. But with the KU big man's playing time limits unknown, the Jayhawks are going to have to find other ways to slow him down.
Senior forward Mitch Lightfoot, who likely will start as KU's lone big, will get his opportunity. But others could, as well. And there's always the possibility that Self will look to help in the post by sending KU's guards to double team Groves on the catch whenever he touches the ball.
That strategy is made much easier by the fact that EWU's starting backcourt features a pair of guards who rank 308th and 317th nationally in percentage of offense coming from the point guard and shooting guard positions.
The Jayhawks have to be careful to leave the Eagles too often or too open on the perimeter, though. EWU shot 35.4% from 3-point range this season and utilizes a style that spreads the floor and features shooters at all five spots.
Even Groves shot 33% from 3-point range this season, knocking in 17 of 52 3-point attempts. And then, as Self pointed out, there's preseason Big Sky Player of the Year Jacob Davison, who doesn't even start yet hit 32 of 88 3-pointers this season (36.4%), including nine of 18 in a loss to Southern Utah in January.
"They can all shoot and they play around a true big," Self said when asked what stood out about the Eagles. "They're a tough team to guard. We will have to defend the arc, and still yet, it's a little bit hard to defend the arc if (their) post guy's (their) best scorer."
One thing that adds to EWU's high-scoring attack is the fact that the Eagles rank as the nation's sixth-best free throw shooting team at 80% from the line.
3. Stay out of foul trouble
This might seem obvious when considering the second key in this matchup. But the benefits of Kansas staying out of foul trouble extend far beyond their ability to handle Groves down low.
This matchup is not a bad one in that regard, but it's worth noting that Groves ranks 93rd in the nation in fouls drawn per 40 minutes.
Kansas is not known as a team that finds foul trouble very often. The Jayhawks had a player foul out just four times all season (McCormack three times and Christian Braun once) and only had a player reach four fouls in a single game 19 times.
Keeping it that way could go a long way toward helping KU advance to the second round.
Already short-handed and undersized, the Jayhawks have to have their horses stay on the floor. That's particularly true for versatile starters Marcus Garrett, Braun and Ochai Agbaji.
It's one thing for a player like Tyon Grant-Foster or Mitch Lightfoot to play 10-12 minutes. It's something else entirely if foul trouble forces either of those players to surpass the 20-minute mark.
Both Agbaji (2.1) and Braun (2.3) are among the nation's leaders at their positions in fewest fouls committed per 40 minutes. But it will be interesting to see if them being asked to do more because of KU's light lineup has any impact on that.
For what it's worth, in limited minutes, Grant-Foster with McCormack is tied for second on KU's roster at 4.2 fouls per 40 minutes, behind Lightfoot's 6.2 clip.
Marquee Matchup
KU's 5-guard lineups vs. EWU's more traditional approach
Before we dive into this matchup, which will be massive in this game, take a quick look back at a couple of things Self said in October about the possibility of playing with five guards this season.
First, "I do think that we could be very hard to guard if we can get creative and get guys to understand how to be creative playing five out."
Then, "It would be very positionless."
And, finally, "If I had to pick somebody that I'd want to be our point guard and somebody that had to play the 5, I would take Marcus on both of those."
Fast-forward to today and you're looking at the real possibility of that happening in the team's biggest game of the season to date.
Because no one knows for sure how ready or effective McCormack will be, it's hard to count on him to be the player he was throughout February, when he elevated his game to a second-team all-Big 12 level and became a legitimate presence the Jayhawks could play through.
Whenever he's back to 100% — or even close enough to it to be deemed reliable — the Jayhawks will continue to utilize his strengths as both a scorer and a passer.
But there's something to the theory that if this team is going to make a deep run, particularly in the West region, where some of the best big men in the country were sent, they might do it as a team of guards that plays fast, flies around and makes life uncomfortable for its opponent.
We already know what that means and looks like for guys like Garrett, Agbaji, Braun and Wilson, if/when he returns.
But the recent emergence of backup point guard Dajuan Harris as a player worthy of 20 minutes per game and the fact that Self had an entire week to get Grant-Foster comfortable with his role and KU's game plan could, if things go well, only increase KU's desire to create matchup problems for its opponents by playing small.
Jayhawk Pulse
At full strength, this would be a matchup that the Jayhawks should have very little problem with in the opening round.
But Kansas is not full strength — not even close, really — and in order to advance the Jayhawks are going to need high-quality games from the guys they expect to get them from along with a little help from the bench.
Given their excitement level over the fact that they made it to this point, a high-energy effort should be automatic. And even without Wilson and Enaruna — and with McCormack at less than 100% — there are plenty of areas that Kansas still has an advantage.
Don't discount the importance of the coaching advantage. Self has traditionally been very good, even with backs against the wall, when given this kind of time to prepare a game plan.
Like with most games this season, it's a fast start that Kansas is seeking in this one. And if they get it and take control of the game in the early going, that could help offset some of those questions about how Kansas will play, who will handle the minutes and who will elevate his game to make up for what KU is missing.
This marks just the second ever meeting between Kansas and Eastern Washington. The Jayhawks won the first matchup, 85-47, in 2007.
KU is also 14-0 all-time against members of the Big Sky Conference, while EWU is 0-9 all-time against teams from the Big 12.
KU opened as a 13-point favorite in Las Vegas, but the line quickly dropped to KU -10.5 as bettors jumped on the Eagles early.
KenPom lists Kansas with an 11-point advantage and an 83% win probability.
Probable Starters
No. 3 Kansas
G – Marcus Garrett, 6-5, 195, Sr.
G – Bryce Thompson, 6-5, 195, Fr.
G – Ochai Agbaji, 6-5, 210, Jr.
G – Christian Braun, 6-6, 205, Soph.
F – Mitch Lightfoot, 6-8, 225, Sr.
No. 14 Eastern Washington
G – Jack Perry, 6-2, 175, Sr.
G – Michael Meadows, 6-2, 175, RS-Soph.
G – Jacob Groves, 6-7, 185, Soph.
F – Kim Aiken Jr., 6-7, 215, RS-Jr.
F – Tanner Groves, 6-9, 235, RS-Jr.