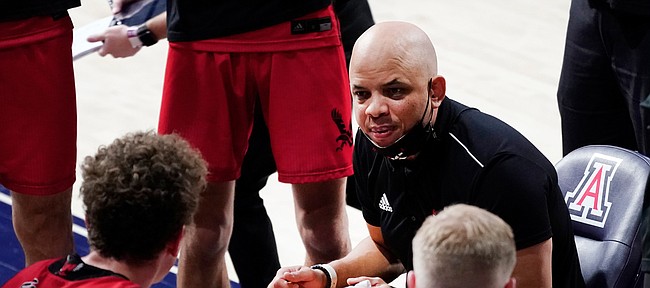 As Kansas enters the NCAA Tournament coming off its first COVID pause of the season, the Jayhawks' first-round opponent, Eastern Washington, knows all about how challenging that can be.
"It was hard the first time coming out of it," Eagles coach Shantay Legans shared Tuesday afternoon, while speaking with reporters on a video conference call. "Especially big guys need a little push."
Before EWU (16-7) got rolling in the Big Sky Conference, it had to pause basketball activities twice, and had situations where an opponent wasn't available to play. With their longest pause coming around the holiday break, too, the Eagles went a stretch of 26 days without a game.
"Those are hard. Those are really hard on kids," Legans said. "And we've had it where we've had to quarantine all of our guys and not been able to practice for like 10, 11 days. And that's really hard, because they weren't able to lift weights, they weren't able to get shots up. They were just sitting home playing video games and talking to their friends, being on social media and probably eating bad food."
EWU's pauses and the one KU is coming out of heading into Saturday's matchup (12:15 p.m., TBS) between the two teams aren't exactly the same. Still, Legans' explanation of how his players handled returning could provide some insight about what the Jayhawks who have been out could experience.
David McCormack and Tristan Enaruna, KU coach Bill Self said earlier in the week, are expected to join the Jayhawks in Indianapolis this week, ahead of the first-round game, while Jalen Wilson is expected to miss — at least — the opening round.
"The first time we were coming out of it," Legans said, "I thought we were a little lackadaisical, lethargic."
The fourth-year EWU coach said his players seemed to respond well initially to their nearly four-week break, beating Southern Utah, 75-63, in mid-January. But then the Eagles two days later lost to that same team, giving up a season-worst 99 points.
"You could see where our guys were tired. You could see they didn't have that same intensity, that same flow to the game as we did before," Legans said of the pause catching up with them. "We just sputtered out at the end, the last 10 minutes of the game."
The Eagles' next pause came in late January, and Legans said that led to seven days without practicing due to contact tracing. But EWU returned to win back-to-back games against Sacramento State on the last day of January and the first day of February. The coach said he thought they handled returning from a pause better the second time because they already had gone through it.
EWU hasn't had any disruptions since then, and has won 13 of its last 14 games.
EWU's preparation for KU
While there is some uncertainty surrounding KU's lineup after the team had to withdraw from the Big 12 tournament last week, Legans said his team will prepare as if "everybody's playing" on Saturday at Indiana Farmers Coliseum.
"We're preparing like they're going to be there," Legans said of both McCormack and Wilson, "because if we don't prepare and they're there, our guys are going to look at us like, 'You're crazy.' I'd rather them say, 'Hey, they're just not here.'"
EWU's coach said he's sure "at least two of the three" KU players who aren't with the team yet will be back to face his Eagles on Saturday.
Self has said McCormack and Enaruna are expected to be available.
Eagles practicing in Indy
EWU's traveling party arrived in Indianapolis on Sunday, and although the Eagles have mostly been in their hotel rooms since then — Legans said all he has done is watch KU game footage and "whatever comes on ESPN" — they were able to practice on both Monday and Tuesday.
The Eagles, having just played three straight days in Boise, Idaho, winning the Big Sky tournament to earn their NCAA Tournament invite, arrived in Indianapolis feeling tired. Legans said the players just shot around for Monday's practice, and then they were able to do some more and run "a little bit" on Tuesday. His plan is for EWU to ramp up its intensity over the course of the week.
Although Legans said EWU has dealt with some practice scheduling getting changed up unexpectedly this week, he said the Eagles are rolling with it all.
"We've been doing it all season," he said of changing plans, "what's a couple more weeks — fingers crossed."
Underdogs excited to face KU
EWU's leading scorer, as well as the Big Sky regular season and tournament MVP, Tanner Groves said before the brackets came out on Sunday he figured the Eagles would get a seed somewhere between 13 and 15.
"Fourteen against Kansas, that's pretty cool," said Groves, who is averaging 16.4 points and 8.1 rebounds. "To go against one of the blue bloods of college basketball, it's something kind of cool that not a lot of people get to experience."
Groves, the only EWU player to speak with the media on Tuesday, said all of the Eagles are excited to face No. 3 seed Kansas (20-8) and "looking forward to that challenge."