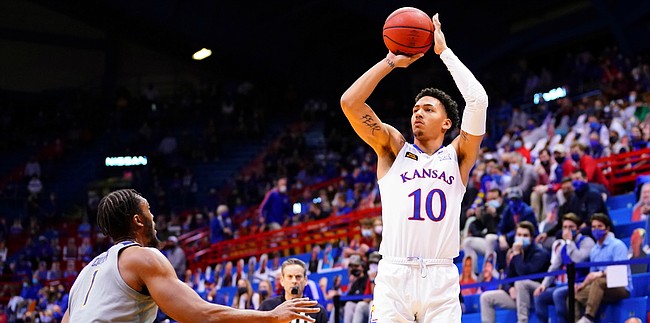 The Journal-World has confirmed through multiple sources that Kansas forward Jalen Wilson did not travel to Indianapolis with the team on Monday and is expected to miss KU's first-round game against Eastern Washington on Saturday.
Wilson, a redshirt freshman from Denton, Texas, also could miss KU's second-round game on Monday if the Jayhawks advance.
Although no official word has come from Kansas about the identity of the player who tested positive for COVID-19 last Friday morning, which led to KU withdrawing from the Big 12 tournament, Kansas coach Bill Self on Sunday said the KU player who produced "the most recent positive test" likely would be out for the first two rounds and would rejoin the Jayhawks, "if we're fortunate enough to advance."
A starter in 26 of KU's 28 games so far this season, Wilson is averaging 12.1 points and 8.2 rebounds in 29.3 minutes per game for the Jayhawks in his first full season of eligibility. The 6-foot-8, 220-pound wing missed all but a couple of minutes of his true freshman season in 2019-20 with an ankle injury.
Wilson, who leads the Jayhawks with nine double-doubles this season, has been the Jayhawks' best rebounder and has played both the stretch 4 position and the 5 spot in KU's all-guard lineups.
With him out of the lineup, junior Tyon Grant-Foster, freshman Bryce Thompson and sophomore Tristan Enaruna, are expected to get opportunities to play more minutes to help fill his role.
A source told the Journal-World that Enaruna and junior forward David McCormack also did not travel to Indianapolis with the Jayhawks on Monday. KU's flight left downtown Kansas City, Mo., around 12:30 p.m. Monday and landed in Indianapolis about an hour later.
Self said Sunday night that he expected both Enaruna and McCormack, who were held out of the Big 12 tournament after entering COVID-19 protocols early last week, to rejoin the team later this week in time for Saturday's NCAA Tournament opener.
"Yeah, we expect (them) to," Self said Sunday. "Unless something happens. But the one thing I found out through this, probably as much as anybody, you expect the unexpected. But we'll see. I'm not privy to comment on specifics, but I'll stick to what I've said all along, that we anticipate those guys joining us this week."
The Jayhawks, a 3 seed in the West region, are slated to open the NCAA Tournament against 14th-seeded Eastern Washington at 12:15 p.m. Saturday on TBS at Farmers Coliseum in Indianapolis.