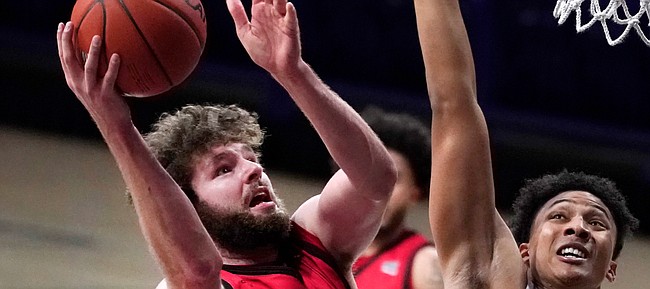 When opposing coaches prepare to face Eastern Washington, it doesn't take long for them to start worrying about the challenges that come with defending the Eagles' five-out offense.
The Big Sky Conference's tournament champion, EWU only suffered three losses once league play began in late December. An assistant coach for Northern Colorado, one of the few teams to defeat the Eagles since then, Lawrence native Dorian Green shared his thoughts on Saturday's NCAA Tournament matchup between Kansas and EWU with the Journal-World.
According to Green, the Eagles are known for finding ways to put opposing defenses in tough spots.
"They've got five guys on the floor at all times that will stretch you out (to the 3-point line) and make shots behind the arc. So that's the hardest part, because they put you in space," Green said.
That includes Big Sky Conference MVP Tanner Groves, EWU's 6-foot-9 junior big man.
"He can make a 3 and stretch it out," the UNC assistant said, adding the Eagles, led by Shantay Legans, are a well coached group. "It's just really hard to guard, because they're constantly putting you in space, and then they play with pace and confidence."
As a team, EWU (16-7) hits 35.4% of its 3-pointers (99th in the country). But as Green pointed out, even Groves (17-for-52, 32.7%) is a threat. And the Eagles have four other players who average more than one made 3-pointer per game — junior wing Kim Aiken Jr. (31.5%), sophomore wing Tyler Robertson (37.8%), senior guard Jacob Davison (36.4%) and senior guard Jack Perry (50%). Aiken and Robertson lead the team with 34 made 3-pointers through 23 games, and Davison has connected on 32.
Green, a former star guard at Lawrence High, watches the Jayhawks only occasionally, as he's busy with his Northern Colorado responsibilities and scouting Big Sky opponents. But he's seen enough of KU to think EWU will try to pull Jayhawks junior big David McCormack away from the basket. He's expecting the McCormack-Groves matchup to be a key component of the March Madness clash in Indianapolis.
"Those two bigs are kind of polar opposites for the most part," Green said.
With McCormack expected to be back in the lineup for favored KU (20-8) after missing the Big 12 tournament due to COVID protocols, the Jayhawks figure to play through McCormack offensively, as they have most of the season.
"That's going to be tough for Eastern Washington to guard," Green said. "Especially if (McCormack) can get Groves in foul trouble, I think that will change the dynamic of Eastern Washington quite a bit."
While the Big Sky isn't a high profile league, Green thinks the Eagles (ranked No. 110 in the country at KenPom.com), like most teams headed to Indianapolis, have the type of mental resolve and toughness that will make them "a tough out."
With four upperclassmen among the top seven players in their rotation, the Eagles have a veteran group, and Green thinks EWU is "kind of on a mission" after having its 2020 season (23-8) cut short because of the COVID-19 pandemic.
"They have a confidence about them. They play together and they've won a lot of games together," Green said. "It's not an easy matchup. That's for sure."