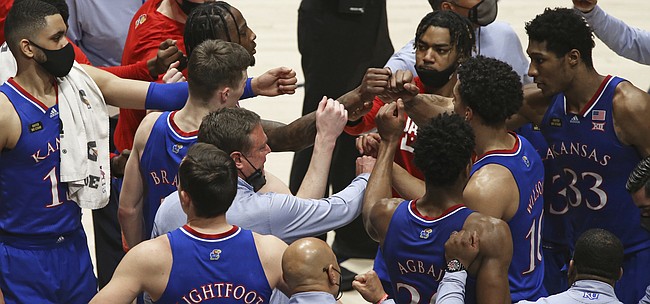 Despite withdrawing from the Big 12 tournament Friday morning after a positive COVID-19 test result, the 11th-ranked Kansas men's basketball team is projected to be seeded among the top 16 teams in the 2021 NCAA Tournament field.
Most of the latest projections have the Jayhawks (20-8) as a 3 seed, but there are still some prognosticators out there who believe that Kansas could be a 4 seed.
Before the Big 12 tournament, Kansas coach Bill Self said the 3 line would be "a great place to be."
"But, depending on who you're matched up with, you may be better off being a 4 or 5," he added. "For us, I think this year is more about the matchups than it is most years, just because of knowing what our strengths and weaknesses are."
The biggest difference between the two spots would present itself in the Sweet 16, if the Jayhawks could win two games to get there.
As a 4 seed, Kansas would potentially have to square off with a No. 1 seed in the third round, during a season when the top three or four teams in college basketball have separated themselves for most of the journey.
As a 3 seed, Kansas would potentially have to face a No. 2 seed in the Sweet 16, which not only would allow the Jayhawks to avoid one of the top dogs but also would pair them, at least potentially, with a team much closer to them in the national polls and rankings.
COVID concerns
On this Selection Sunday, Kansas fans have a little more to worry about than just where their favorite team will be seeded.
After an entire regular season free of COVID-19 troubles, the Jayhawks encountered two such issues this week. First, junior forward David McCormack and sophomore guard Tristan Enaruna were ruled out of the Big 12 tourney before it even began after entering COVID-19 protocols earlier in the week. And on Friday, an unnamed player tested positive the morning after KU's quarterfinal win over Oklahoma.
On Friday, Self voiced optimism about being able to take a team to Indianapolis next week. He said the team was scheduled to fly there on Monday.
NCAA Tournament guidelines require all eligible players to produce negative COVID-19 test results on seven consecutive days leading up to their arrival in Indianapolis, and a program needs just five eligible players to be able to compete.
But it takes more than five players to make a deep run in the tourney, so the status of McCormack and Enaruna, along with the player who tested positive on Friday, will be important to watch as Kansas prepares for the Big Dance.
Self has said throughout the season that he's mostly just happy to be playing, and he reiterated that earlier this week.
"I think everybody in college basketball should be applauded for the sacrifices and the efforts they made to get to this point," he said. "I think the players, the coaches, and primarily medical staffs have done an unbelievable job navigating it."
The protocols
Some other programs — including defending champion Virginia, which won it all in 2019 — are in situations similar to the Jayhawks. And the NCAA has established a set of protocols and contingency plans for teams that run into significant COVID-19 issues before and during the upcoming NCAA Tournament.
Here's a look at the NCAA's plans:
• All teams will be housed in designated hotels for the duration of their participation in the tournament. Meals will either be in-room or in physically distanced meal rooms with assigned seating.
• All Tier 1 participants (student-athletes, coaches, athletic trainers, physical therapists, medical staff, equipment staff and officials) will be required to wear masks at all times, except for at pre-arranged and approved mealtimes, practice, competition time on the court and when they're alone in the hotel room.
• While at practice and in games, players will wear devices that track their locations and can monitor people they've been in close proximity with, which can be helpful in contact tracing efforts in the event of a positive test.
• According to NCAA and CDC guidelines, players who are out after testing positive are eligible to return on the 11th day after symptoms first surfaced. Those players who are close contacts of an infected person — defined as being within 6 feet of a person who tests positive for 15 minutes or longer in a 24-hour period, as tracked by bracelets worn by Tier 1 personnel — can return as soon as they can produce negative test results for seven consecutive days.
• If any single-bid conference's automatic qualifier is unable to participate because of COVID-19, the league may replace it with a preapproved replacement team, but only if that team can produce seven consecutive daily negative tests. The replacement team will be in the same spot on the bracket as its fellow conference member was.
• If any multi-bid conference has a team that can't participate, that team will be replaced by one of the last four teams not selected as at-large teams for the original field. The four replacement teams will be ranked 1-4 and entered in that order as needed. The replacement team shall be placed in the bracket in the position left vacant by the withdrawing team.
• The deadline for replacing a team that's unable to participate because of COVID-19 is 5 p.m. Tuesday. No replacement teams will be introduced after the deadline. Programs also had until 10 p.m. Saturday to inform the NCAA if they did not have enough players to field a team.
• Once the tournament has begun, if a team has a COVID-19 issue and can no longer participate, there will be no replacement. Instead, the opponent will advance to the next round via the no-contest rule.