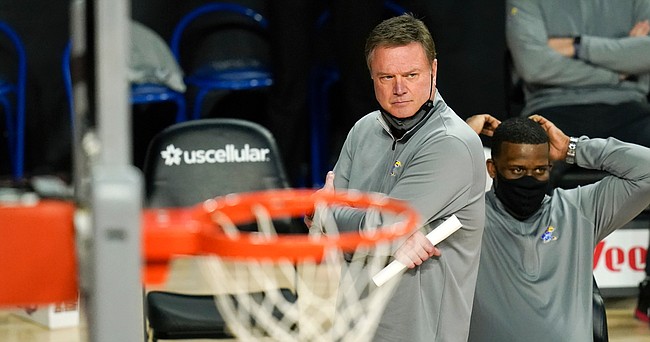 In a phone interview Friday afternoon, just hours after telling his team that Kansas had withdrawn from the Big 12 tournament because of a positive COVID-19 test within the program, KU coach Bill Self said the whole morning felt eerily similar to delivering the same news in 2020.
"Last year was right around 11 o'clock," Self began. "This year was right around 11 o'clock. Same hotel. But it wasn't the same room. It was the same setting with the players, 'Hey everybody hold on here, I want to talk to everybody.' A lot of similarities."
The one major difference that Self could feel, however, was that last delivering the news to the 2020 team was crushing while Friday's unexpected meeting was more of a temporary setback.
"Last year was a knockout punch," he said. "But this year's more of a blow that knocks you down but you don't know if you can get up. But we will. The end game hasn't been affected this year."
Self declined to reveal the identity of the KU player who tested positive on Friday — joining already-sidelined Jayhawks David McCormack and Tristan Enaruna in entering COVID-19 protocol — but did say that KU's stretch of consecutive tests required by the NCAA to leave for Indianapolis started well before Friday.
"Oh, yes," he said. "We've been getting tested every day for a while now."
The NCAA has said that teams selected to compete in the NCAA Tournament will need to produce negative test results on seven consecutive days before even leaving for Indianapolis. The teams will all be tested again upon arrival and tested throughout the NCAA Tournament, as well.
As long as those tests administered to the Jayhawks continue to produce negative results with the rest of the team through the weekend, KU plans to leave for Indianapolis on Monday.
Self said the Jayhawks took Friday off and would practice in Kansas City, Mo., on Saturday and Sunday while preparing for the NCAA Tournament in what he dubbed "a very unique way."
Depending on the time of their departure, Self added that KU also may practice in Kansas City on Monday morning.
"The NCAA recommended to practice before you leave, because I think we will be unavailable to practice on the day we get there," he said.
The Kansas coach's concern with KU's practice schedule and flight itinerary provided an indication of his optimism surrounding KU's chances to play in next week's NCAA Tournament.
"The end game has not been affected much," Self said. "But it does put pressure on us to prepare in a very unique way that probably very few teams have ever had to do going into an NCAA tournament."
Asked what that looked like, in terms of film work, on-court preparation and the like, Self said simply, "I don't know yet."
"You prepare without your full complement of guys, knowing you're going to get your full complement of guys back at a certain time," he added. "It's just going to be a little different."
NCAA officials announced last week that teams would need just five eligible players to be allowed to compete in this year's tournament.
While that obviously would put any team at a disadvantage from a depth perspective, the idea behind the number was to make it as easy as possible for teams who are selected to the Big Dance on Selection Sunday to participate.
Self said it was not yet certain whether the player who tested positive on Friday would be able to play next weekend.
"It would be close," Self said. "I'm not sure."
The NCAA Tournament is slated to start with the First Four on Thursday, and first round games begin on Friday and Saturday.
Self also noted that McCormack and Enaruna, who missed Thursday's win over Oklahoma while isolating back in Lawrence per COVID-19 protocols, would not travel to Indianapolis with the team on Monday.
"We feel like we've got unbelievable safeguards in place," Self said. "So we're still confident that we're going to go to Indy on Monday and, hopefully, still be seeded in a pretty good slot. I think we should be still seeded in a pretty good slot, and we'll get ready to play either on Friday or Saturday."
That confidence extends to the team's feeling about its chances once it gets to Indianapolis.
"I think the team is very disappointed," Self said of not getting a chance to play on Friday night. "I think it's obvious we're coming into our own. We may not have won, but somebody would have to play well to get us right now."