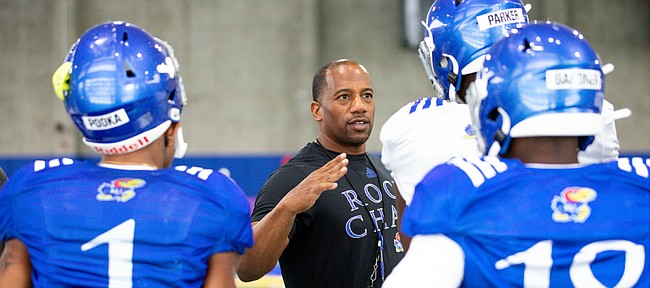 At least some of the uncertainty surrounding the Kansas football program's future dissipated Thursday, as Emmett Jones was named the Jayhawks' interim head coach.
The team's receivers coach and passing game coordinator was chosen for the role by KU Chancellor Douglas Girod and interim Athletic Director Kurt Watson.
Jones expressed his gratitude for being given the opportunity, calling this "a critical time of change" for KU football.
"Since arriving here, I have developed a deep love of this program and university, and it is an honor to be named interim head coach," Jones stated in a KU release. "I will rely on our talented assistant coaches, as well as (strength coach) Ben Iannacchione and the strength and conditioning staff to guide our (players) and be there for them on and off the field."
A number of KU players Wednesday night utilized Twitter to to vocalize their support for Jones, a popular and respected member of the staff.
Watson said he and Girod concluded placing Jones in charge was in the best interest of the program's players. Watson stated he met with Jones, defensive coordinator D.J. Eliot, tight ends coach and recruiting coordinator Josh Eargle, new offensive coordinator Mike DeBord, and the entire KU staff and team to announce the decision.
"Emmett's relationship with our football (players) is vital," Watson stated in a release, "as we venture through this time of transition within our football program and athletics department. I am confident in his abilities to ensure this program functions at a high level in preparation for the 2021 season."
Jones has proven to be one of the most important recruiters for KU since joining the program as one of the initial members of Les Miles' staff, often helping the Jayhawks land touted high school prospects from the Dallas area and throughout Texas. Jones previously worked at Texas Tech for Kliff Kingsbury, as the Red Raiders' outside receivers coach (2016-18).
With spring football approaching, Jones is entering his third year with KU football. His coaching career began to take off following a successful run as a high school head coach in the Dallas area, most recently leading South Oak Cliff High (2012-14).
With KU currently in need of both an athletic director and a permanent head football coach, Girod said earlier this week that once an athletic director is in place, that person will determine the next steps to be taken in KU's search for Les Miles' permanent replacement.
Girod earlier this week named Watson, a KU alumnus and prominent donor, KU's interim athletic director.