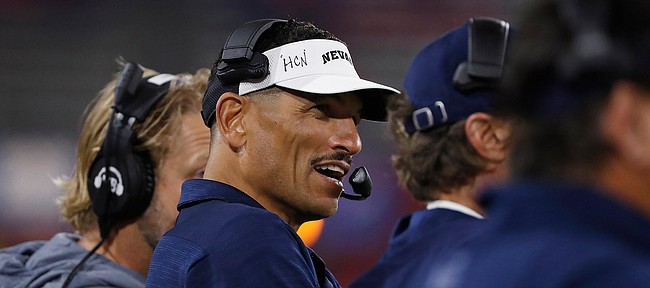 The University of Kansas football program is in the market for a new head coach so often — the position currently is vacant for the fifth time since Mark Mangino was forced out in 2009 — that some of the potential candidates for the job this time around might even seem like retreads from 2018 or 2014 at this point.
But there are some intriguing potential candidates with college head coaching experience whose stock has risen in the two-plus years since KU brought in Les Miles in its latest rebuild attempt.
Here are three current head coaches who have emerged as potential viable options for KU (once it hires a new athletic director) by winning at Group of Five FBS programs.
Jay Norvell, Nevada
Head coaching record: 25-22 in 4 seasons
The last time KU was looking for its next head coach, Norvell was in the middle of just his second season leading Nevada. The Wolf Pack went 3-9 during his first year in charge, but the Mountain West program has been piling up wins since then.
Nevada has made three consecutive bowl appearances, as Norvell led the Wolf Pack to an 8-5 record in 2018, a 7-6 mark in 2019 and a 7-2 finish in the pandemic altered 2020 season.
Earlier this offseason, when the coaching carousel was going full speed, Arizona and Vanderbilt reportedly were interested in Norvell as a candidate.
Why he makes sense for KU: Norvell, 57, has seen it all in football. After playing defensive back at Iowa in the early 1980s, he first got into coaching as an assistant, and worked at Wisconsin and Iowa State before becoming an NFL assistant with the Colts and Raiders.
Norvell returned to the college game in 2004 at Nebraska, as an offensive coordinator and quarterbacks coach. After a stop at UCLA as O.C., he coached in the Big 12 at Oklahoma from 2008-2014, then spent one year on the staff at Texas and one year at Arizona State, before taking over at Nevada.
Bill Clark, UAB
Head coaching record: 40-22 in 5 seasons
Clark quite literally rebuilt the UAB football program from the ground up, after the university temporarily ceased fielding a team from 2015-16.
When the Blazers returned to action in 2017, Clark led them to an 8-5 finish. And that wasn't a fluke. UAB has continued to win in Conference USA under Clark, going 11-3 in 2018, when the Blazers won the conference championship.
Clark, now 52, also led UAB to a 9-5 record in 2019 and the Blazers went 6-3 in their shortened 2020 season.
Why he makes sense for KU: The man knows rebuilds. UAB went nine consecutive seasons with a losing record before Clark arrived in 2014 — just in time to see the program temporarily shut down following his first year in charge.
By 2018, Clark was racking up awards, being named the Eddie Robinson National Coach of the Year, as well as the national coach of the year by both CBS Sports and Sporting News. And the Blazers have finished .500 or better every year under Clark's watch.
Sean Lewis, Kent State
Head coaching record: 12-17 in 2-plus seasons
At Kent State, Lewis inherited a program that had had gone 14-45 in five consecutive losing seasons before he took over. As would be expected, the Golden Flashes struggled in his first year as the head coach, too, going 2-10.
A young head coach — he will turn 35 in April — Lewis is just getting started in the MAC with Kent State, but could soon become a hot commodity for bigger jobs at the rate he's going.
In Lewis' second season, Kent State achieved a bowl bid for the first time in seven years, and the Golden Flashes beat Utah State in the Frisco Bowl to finish 7-6.
Kent State didn't get much of a chance to build on that momentum in 2020, with the pandemic all but wiping out its schedule. But Lewis' bunch went 3-1 in the shortened season.
Why he makes sense for KU: The MAC long has been known for catapulting its head coaches to bigger and better jobs, making it a good place to go mining for gems.
A former co-offensive coordinator and quarterbacks coach at Syracuse, and tight end and QB during his playing days at Wisconsin, Lewis is no stranger to Power Five football, either.