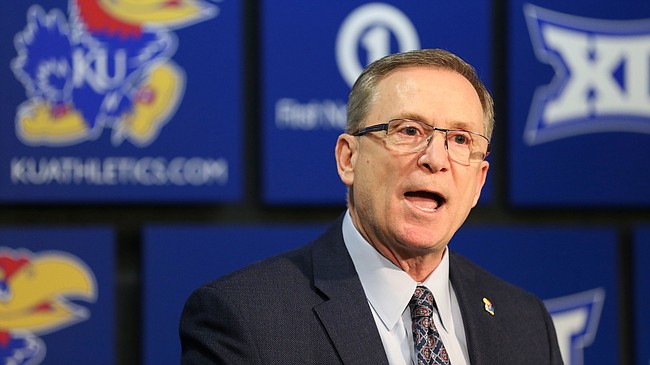 Less than 24 hours after Jeff Long fielded questions in a press conference about what went wrong with his hiring of football coach Les Miles, the University of Kansas and the athletic director jointly announced Wednesday he was stepping down.
Long came under fire in recent weeks for his vetting and hiring of Miles, as sexual harassment allegations from years past involving the former LSU football coach came to light.
In separate letters published by KU Chancellor Douglas Girod and Long, the two sides described Long's departure as the AD stepping down. Long said in his letter that he and Girod met Monday night and agreed on the change in leadership.
"It is not easy, but I leave KU with a heavy heart and profound confidence that I have always acted in the best interests of Kansas Athletics," Long said. "I have done everything in my control to move Kansas Athletics forward in a positive manner, that's what makes this most difficult."
Girod said KU's next permanent athletic director would determine the next steps in KU's search for Miles' replacement.
Long's five-year contract with Kansas Athletics Inc., signed in 2018, paid him $1.5 million a year. The deal included buyout language that stated KU would pay him the remainder of his guaranteed salary on the five-year deal if he were fired without cause. However, a separation agreement between Kansas Athletics Inc. and Long, published Wednesday, showed that KU agreed to pay him through the end of this month, plus settlement payments totaling $1.375 million.
Girod also announced that Kurt Watson, a KU alumnus and prominent donor, would serve as KU's interim AD, and he said he was confident Watson "will provide strong leadership and stability during this transition."
Watson is a longtime financial executive from the Wichita area. He retired in 2017 as president and chief operating officer of IMA Financial Group, an 800-employee insurance and financial services firm. Watson also has served as an executive with Emprise Bank, among other institutions, and is a past co-chair of a $1.6 billion capital campaign for KU that concluded in 2016.

KU's search for its next AD will begin immediately, Girod said. He said he would lead that process, while also making use of a search firm and a group of four alumni advisers: Linda Ellis Sims, Ray Evans, John Ballard and former KU basketball player Wayne Simien.
"Each of these loyal Jayhawks will bring tremendous expertise and passion to the search, and I know their counsel will benefit the process," Girod said. "We will move quickly but judiciously, and my hope is to have a new athletics director in place within the next few weeks."
The list of candidates for the now-open AD job will take shape in the weeks ahead. One name that has been floated on social media is Danny Manning, and he told the Journal-World on Wednesday that he was at least interested in learning more about the position. 
"Yes sir," Manning said in a text on Wednesday afternoon. 
Manning, who has been the head coach at Tulsa (2012-14) and Wake Forest (2014-20) since leaving Bill Self's basketball staff at Kansas, spent much of the current college basketball season doing studio work for various television broadcasts of college basketball games. 
In the wake of Long's departure, KU also released a statement from Self.
"This has certainly been a challenging time for all of us who love KU, and I recognize that change can be difficult," Self said. "Jeff and I enjoyed a good working relationship and I wish him well in all of his future endeavors. I have the utmost trust and respect for Chancellor Girod and I am confident that he will find us a tremendous new leader of our athletics program."
Girod also addressed the limbo that the KU football players find themselves in at this juncture, with the future leadership of the program up in the air. The chancellor said he understood the players were eager to know who the next head coach would be.
"But we are making longterm decisions on an athletics director and a football coach, and we cannot sacrifice the quality of a search simply for expediency," Girod said.
Long's football coaching hire in 2018 ultimately brought negative publicity to the program and university when details of LSU's investigations of alleged sexual harassment by Miles were made public. On Tuesday, Long said KU performed its "due diligence" by speaking with people within LSU's athletic department to find out if there were any situations KU needed to be aware of "and we received no indications of any issues."
Miles' attorney Peter Ginsberg, however, has said KU was provided with "significant information" about the 2013 reports from LSU before they were made public.
Some also questioned how thorough Long's coaching search was. In March 2020, depositions from former KU football coach David Beaty's court battle with Kansas Athletics Inc. over his buyout money included some questions for Long about his hiring of Miles and the ESPN+ online series "Miles To Go," which in part documented portions of the search for Beaty's replacement.
In those documents, Long says he can't remember by name some of the candidates he interviewed for the head coach job in 2018. Long provided the name of Todd Graham (then the head coach at Arizona State) before going into other candidates: "And then there was the gentleman — and again, I'm struggling with his name. He was working with the LA Rams at the time… it's not coming to me." Long apparently was referencing then-Rams offensive assistant Jedd Fisch. Long then also forgot the name of the Cincinnati Bengals' defensive coordinator, Lou Anarumo. He said he interviewed those three candidates and Miles in person.
KU signed Long in the summer of 2018 to a five-year contract with hopes that the new AD would play a major role in turning around the long-struggling football program.
In his farewell statement, penned two years and eight months after he officially took over as KU's athletic director, Long said it became clear to him that if he remained in the job at this point, he would be a "distraction" to the athletes, coaches and staff.
"Even though this is extremely difficult for me, this is what is best for KU, for me and for my family, and I am at peace with this decision," Long said.