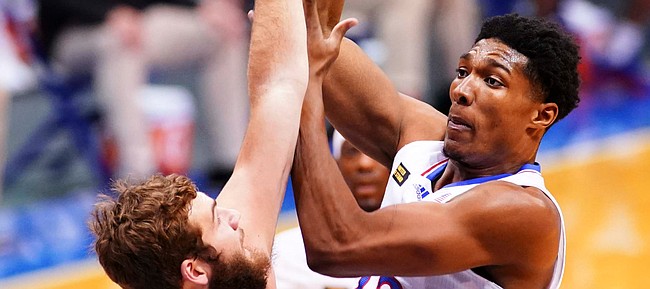 Kansas basketball coach Bill Self announced Tuesday that the Jayhawks will be without junior forward David McCormack and sophomore wing Tristan Enaruna for this week's Big 12 tournament in Kansas City, Mo.
Self said both players had entered into COVID-19 protocol but did not reveal whether either tested positive for COVID-19 or was in the protocol for something else, like contact tracing.
Enaruna and McCormack are roommates and Self said no other Jayhawks were deemed to be in jeopardy of missing this week's action at T-Mobile Center.
"That's not a call that I make," Self said. "That's our medical staff and the county or municipal COVID restrictions and guidelines. So yeah, we're good in that regard."
Self said KU knew about the status of the two players prior to Tuesday and that all indications from medical professionals were that both Enaruna and McCormack would be back in time for the start of the NCAA Tournament next week in Indiana.
"The guys have done a great job to date, or just to a couple of days ago, and certainly I don't hold anyone responsible for something that is obviously easily spreadable and those sorts of things," said Self, who has praised his team for staying pause- and COVID-free throughout the 2020-21 season.

The Jayhawks (19-8 overall, 12-6 Big 12) are the No. 2 seed in the Big 12 tournament and will play the winner of Wednesday's 7-10 game between Oklahoma and Iowa State at 5:30 p.m. Thursday.
Self said he had an idea of how he would replace both players in the lineup, but added that he had not fully committed to any one plan of attack, be it starting Mitch Lightfoot in McCormack's place or playing small, with five guards, as the Jayhawks have done on occasion throughout the season.
The Kansas coach also noted that seldom-used freshman big man Gethro Muscadin also could be used if foul trouble or matchups dictated it.
"Absolutely," Self said. "We can certainly do that and have confidence in him to do that. But, minus the foul situations, we actually played some of our best ball this year when we played small. We haven't practiced that a lot. But (at) all the recent practices we put a lot of time in on that."
After averaging 6.9 points and 4.1 rebounds per game in 18 starts last season, McCormack bumped his numbers to 13.1 points and 6.1 rebounds this season. He also ranks third in the Big 12 with six double-doubles and he reached double figures in scoring in 17 games, including 11 of the last 12.
Self said both Enaruna and McCormack were in good spirits regarding the recent setback.
"I think Dave and Tristan are both down and disappointed," Self said. "More probably Dave is, because Dave has been such a contributor and all those things. But I think they've taken it very maturely and positively."
Self said both players have shown the attitude of telling their teammates to "go take care of business and we'll see you next week."
"So I don't see it as a total downer for them because there is the opportunity to come back," Self added.