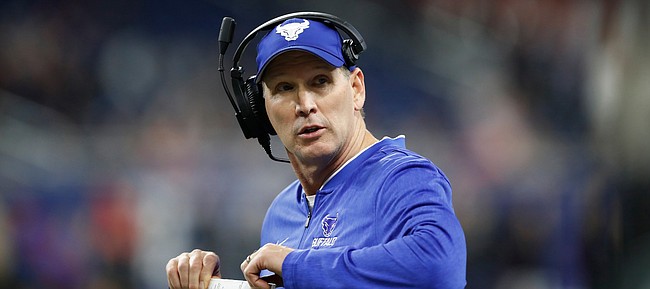 Exactly who will be coaching the Kansas football team when it takes the field this coming fall is up in the air just a few weeks before the scheduled start of spring practices.
Les Miles is out. Offensive coordinator Mike DeBord is the acting head coach for now. And an interim could be named before the Jayhawks have someone in charge for the long haul.
Even though the head coaching position for the Big 12's perpetual last place program just officially became vacant late Monday night, lists of potential candidates began making the rounds on national websites once KU placed Miles on administrative leave.
Already, in particular, three names of current college head coaches have been brought up by multiple outlets — Buffalo's Lance Leipold, Tulane's Willie Fritz and Army's Jeff Monken.
As KU Athletic Director Jeff Long, with the help of an outside firm, tries to find the right hire for the long struggling program, those three appear to be early frontrunners.
It's also possible KU could decide to promote from within, and the top candidates from the current football staff are defensive coordinator D.J. Eliot and receivers coach and passing game coordinator Emmett Jones, along with DeBord, whom Long named the acting head coach.
DeBord has only worked at KU a month. Eliot and Jones both have coached the Jayhawks for two-plus years now. Eliot also has experience as a defensive coordinator at Power Five programs Colorado (2017-18) and Kentucky (2013-16). Jones has proven to be one of the most important recruiters for KU since joining the program and previously worked at Texas Tech for Kliff Kingsbury, as the Red Raiders' outside receivers coach (2016-18).
A coach whose name hasn't been brought up nationally but would be familiar within the KU football facilities is former offensive coordinator Brent Dearmon. Because Dearmon just left KU this offseason to become the O.C. at Middle Tennessee, though, it's possible KU and Long might not even reach out to him.
Below is a rundown of the active head college football coaches whose names have been linked to the KU search so far — via The Athletic, Yahoo Sports, CBS Sports and Football Scoop. Each potential candidate is listed with his career record as a head coach.
• Lance Leipold, Buffalo (37-33 in 6 seasons)
• Willie Fritz, Tulane (47-40 in 7 seasons)
• Jeff Monken, Army (49-39 in 7 seasons)
• Jay Norvell, Nevada (25-22 in 4 seasons)
• Sean Lewis, Kent State (12-17 in 2-plus seasons)
• Skip Holtz, Louisiana Tech (115-89 in 16 seasons)
• Mike Neu, Ball State (22-34 in 5 seasons)
• Bill Clark, UAB (40-22 in 5 seasons)
• Craig Bohl, Wyoming (38-44 in 7 seasons)
• Ken Niumatalolo, Navy (101-67 in 14 seasons)
• Jason Candle, Toledo (38-21 in 6 seasons)