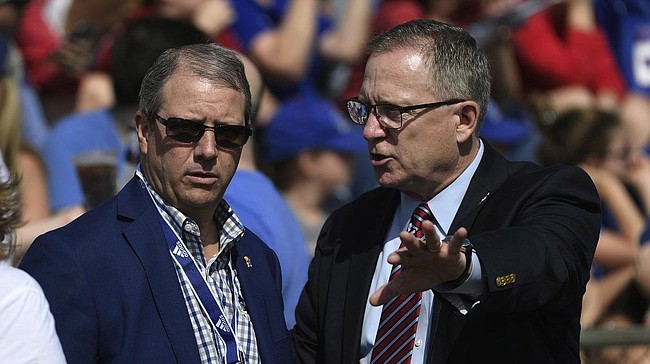 With his hiring of former head football coach Les Miles now facing much public criticism, University of Kansas Athletic Director Jeff Long on Tuesday defended his vetting process and provided some insight into what the search for Miles' replacement would entail.
KU also announced that it reached a base settlement of nearly $2 million with Miles, whose departure was announced on Monday in the wake of allegations that he sexually harassed student employees while he was the head coach at LSU.
In a video news conference on Tuesday, Long said the university "ran multiple background" checks on Miles before hiring him in 2018. Long also said he asked Miles during that process whether anything in the coach's past could "potentially embarrass the university or himself or our program," and Miles told him "no."
What's more, Long said KU performed its "due diligence" by speaking with people within LSU's athletic department to find out if there were any situations KU needed to be aware of, "and we received no indications of any issues."
In February, Long said, Miles' lawyers informed KU about a legal dispute in Louisiana involving the Jayhawks' coach, but they didn't elaborate on the nature of the matter or provide any legal documents. Long said that he asked Miles at that time whether KU should be concerned about the dispute and that Miles said "no."
Long also reiterated his claim that KU didn't learn about the extent of the harassment allegations or LSU's investigations on Miles until the reports were made public to everyone. In Miles' two-plus years at KU, Long said, no one reported to him any details about alleged misconduct involving the coach.
Miles' attorney Peter Ginsberg, however, has said KU was provided with "significant information" about the 2013 reports from LSU before they were made public. The Journal-World on Tuesday asked Ginsberg about any documents that were provided to KU related to past allegations concerning Miles and LSU. Ginsberg, however, declined to confirm what, if any, documents were provided to the university. He said the settlement between KU and Miles now puts restrictions on what he and Miles can say about the matter.
When he hired Miles, Long said KU was aware of a 2013 Sports Illustrated report about how a student hostess program at Oklahoma State called "Orange Pride" put an emphasis on "prettier and more outgoing women" during Miles' time with that team. More than a dozen former OSU players told Sports Illustrated that a small number of "Orange Pride" members had sexual relations with players during recruiting visits. Miles said at the time of the Sports Illustrated report that he wasn't aware of reports that recruits had been sleeping with the student hostesses.
Long pointed to subsequent reports that led to OSU and the NCAA issuing a joint statement that described various Sports Illustrated allegations as "unfounded."
The settlement
KU announced Tuesday that it agreed to pay Miles a base settlement of $1,991,062.50. The agreement also calls for another set of payments for services due in March 2021, but it is not yet clear what that amount will total. The coach's original five-year contract with KU stated that if Miles was fired without cause, he would be owed the remaining amount of his salary under the contract, which paid him $2.775 million per year. With the settlement, KU avoided paying Miles that entire sum, which would have been more than $7.3 million.
Long said KU would pay for the settlement with "athletic department revenue, whether that's through our Williams Fund donations or whether that's through operational dollars that we achieve." No university funds would be involved, he said.
Settlements with football coaches aren't new for KU. In 2020, KU settled with its previous coach, David Beaty, for $2.55 million after Long fired Beaty in 2018 and a legal battle ensued.
Long called the situation with Miles "very different" from the situation with Beaty and said he didn't compare the two. He said the battle over paying Beaty involved alleged NCAA violations, while paying Miles involved "something else."
Near the conclusion of the news conference on Tuesday, Long was asked why KU didn't fire Miles for cause if Miles lied to Long about his past.
"That is debatable whether that's a lie, and I'll leave that to our legal people to dissect that out," Long said. "We felt it was important to move our program forward; that we needed to basically agree to mutually part and pay Les through the remainder of 2021."
Search for a new coach
A day after moving on from Miles, Long said he would continue evaluating which assistant football coach would be elevated to the interim head coach spot, and that new offensive coordinator Mike DeBord would remain the acting head coach for now.
But Long also made it clear that the plan at this point was to conduct a national search for a permanent head coach.
Long said he didn't have a timeline yet for the search. In the coming days, he said KU would speak with alumni and former players and determine which search firm to hire. He said the search firm would add candidates to KU's pool of potential hires, a group he said included some coaches who already have shown interest in the vacancy.
Long said there were no leading candidates for the job at this point.
In March 2020, depositions from Beaty's court battle with Kansas Athletics Inc. over his buyout money included some questions for Long about his hiring of Miles and the ESPN+ online series "Miles To Go," which in part documented portions of the search for Beaty's replacement.
In those documents, Long says he can't remember some of the candidates he interviewed for the head coach job in 2018. Long provided the name of Todd Graham (then the head coach at Arizona State), before going into other candidates: "And then there was the gentleman — and again, I'm struggling with his name. He was working with the LA Rams at the time… it's not coming to me." Long apparently was referencing Rams offensive assistant Jedd Fisch. Long then also forgot the name of the Cincinnati Bengals' defensive coordinator, Lou Anarumo. He said he interviewed those three candidates and Miles in person.
On Tuesday, Long was asked what his response would be to KU fans who might not want him involved in the search process this time around.
"I don't think it's in the best interest of the University of Kansas, or any university, for an outside entity to control a search process," Long replied. "I'm very comfortable and confident in my years of college football. I'm confident that I can conduct the search. I'm confident that I can find the next leader of the (KU football program)."
The AD also didn't voice any concern about the status of his own job when asked about it, and he said that KU Chancellor Douglas Girod would be involved in the search process, "as I would do with any search." Girod also was involved in the decision to part ways with Miles, Long said.