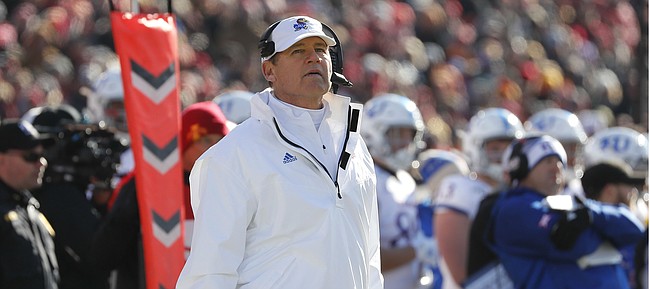 According to an internal investigative report released by LSU, former football coach Les Miles, now the head coach at the University of Kansas, was accused of texting female students, taking them into his condo and allegedly kissing a student and suggesting they visit a hotel together, USA TODAY reported Thursday.
After an outside law firm completed an investigation of Miles for LSU in 2013, LSU issued a letter of reprimand to Miles, USA TODAY reported, and ordered him to stop being alone with student employees. Miles also was directed to not text or call student employees.
As part of the investigation eight years ago, Miles said he did nothing wrong and was mentoring young women at LSU.
Per the investigation, Miles' behavior was found inappropriate and the then LSU coach denied kissing a woman who made that allegation. The law firm did not discover evidence of Miles having a sexual relationship with any of the women who made allegations.
Rather, the law firm that conducted the investigation stated in its report that it wasn't able to determine whether an allegation that Miles kissed a student was true. The student alleges that Miles kissed her twice while they were driving in his car.
Dan Beckler, KU Athletics' associate athletic director for public relations, told the Journal-World on Thursday afternoon KU, due to ongoing litigation, wasn't provided a copy of the 2013 report prior to USA TODAY's story on Thursday.
"We are in the process of reviewing the 34-page document," Beckler said. "We are also aware that LSU is issuing an additional report tomorrow, and we will wait to comment further until we have reviewed both documents."
The woman who alleged Miles kissed her said he also suggested "they go to a hotel together," the internal investigation from 2013 showed. The investigative team also did not determine if that allegation was true, however, the law firm did conclude in its report that Miles showed "poor judgment."
The woman also alleged Miles suggested "they go to a hotel together," the report showed. The investigative team also did not determine if that allegation was true, however, the law firm did conclude in its report that Miles showed "poor judgment."
According to the investigation, Miles said he met with the woman who alleged he kissed her to talk with her about her career and "tell her about a sports agent he had seen on a recent trip." Miles admitted being alone in his vehicle with the woman, but denied kissing her.
The female student also alleged her interactions with Miles included "unwanted touching" from the LSU coach.
Some LSU athletic department staff members, the investigation revealed, alleged Miles said female student workers who helped the LSU football program needed to be attractive.
Another student employee, who said Miles asked her to babysit his children, said she had uncomfortable interactions with the coach. The report also described a third student receiving texts from Miles via a burner phone. An investigator noted in the report that athletic department employees told the student to ignore the texts and "implied that other students had similar experiences."
The internal investigation of Miles at LSU first came to light as the result of USA TODAY's reporting on mishandling of sexual misconduct allegations at LSU through the years.
USA TODAY reported that Miles and LSU took measures in 2013 to prevent the investigative report from being made public. Miles' lawyer earlier this week asked a judge to allow the investigation to be released, so that Miles could be defended against "unfair media attention that this matter has received during the past week."
Per USA TODAY, the Husch Blackwell report LSU plans to release Friday also is expected to include details of Miles' time with the football program and the allegations he faced.
Miles coached LSU from 2005 to 2016, winning the 2007 national title.
KU Athletic Director Jeff Long hired Miles to take over the struggling football program in November of 2018, a little more than two years after LSU fired Miles four games into the 2016 season. Miles signed a five-year contract with KU that could keep him in charge of the Jayhawks through the conclusion of the 2023 season.