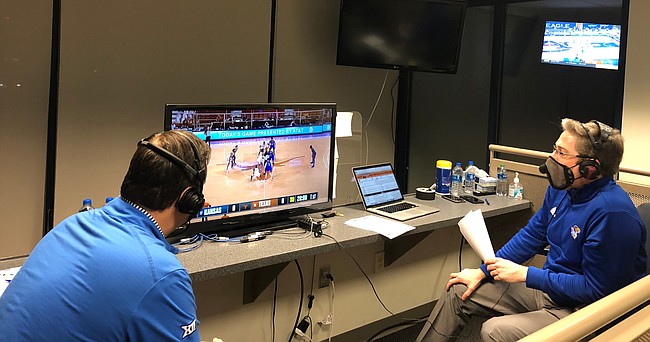 Throughout his career as a radio play-by-play announcer, Voice of the Jayhawks, Brian Hanni, has been able to feed off of the electric sights and sounds around him.
But for six recent University of Kansas men's basketball road games, Hanni and broadcast partner Greg Gurley were tasked with calling the action from a mostly empty booth on the eighth floor of KU's Memorial Stadium instead of courtside with the Jayhawks.
While the basics of the job remained the same — "Marcus Garrett throws it to the corner to Ochai Agbaji, who drives baseline and lays it in" — just about everything else associated with the unusual game night adventures was a new experience for Hanni, Gurley and producer/engineer Steve Kincaid.
For all four Big 12 road games in Texas, as well as games at West Virginia and Tennessee, the crew did their broadcast from KU's football stadium instead of Allen Fieldhouse.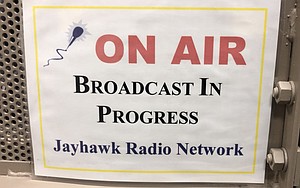 Both venues have the necessary equipment to pull it off, but doing so at KU's home basketball arena would have required the crew to operate from the Rock Chalk Video headquarters, where things would have been a little tighter and less conducive to proper social distancing.
The Journal-World was in the booth for the most recent remote broadcast put on by the Jayhawk Sports Network from Learfield IMG College, and the call of the KU-Texas game in Austin, Texas, featured a good sampling of the quirks and challenges of this new way of putting Kansas basketball on the air.
"It definitely took some getting used to," Hanni said. "But we've got an A-plus team of folks on all levels that have worked so hard to make this possible."
Kincaid, who also produced remote versions of Jimmy Chavez's broadcast of all KU women's basketball road games, was one of them.
In addition to quickly learning the technology needed to sync up the audio and video feeds while filtering ambient crowd sounds into the broadcasters' headphones and what listeners were hearing at home, Kincaid often had to save the crew from any last-minute issues that threatened to derail the broadcast.
One such incident came two minutes before tipoff when KU was in West Virginia.
"I can't give this guy enough credit," Hanni said. "They were having connectivity issues in Morgantown, and Steve was running back and forth pulling different wires and trying to get it figured out on our end, trying everything he could think of to make it work."
The effort paid off and the listeners were none the wiser.
"He's gone to more lengths than people would even realize to make this possible," Hanni said.
That included bringing his own 44-inch television screen to the booth so Gurley and Hanni could watch the action on the counter directly in front of them.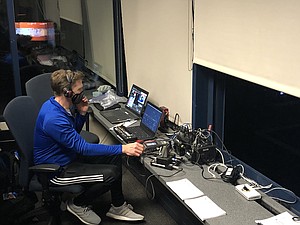 Kincaid viewed the whole experience as him simply doing his job. And he credited the assistance they received from Rock Chalk Video for helping the broadcast crew get better and more comfortable with each game.
"We're not video people, and some of the language we speak is different from the language they speak," Kincaid said. "We've had a lot of help from Rock Chalk Video, but some of it has just been learning on the fly."
There were plenty of in-game challenges, as well. Most of those fell on Hanni and Gurley, who, at best, had to fill a few seconds of dead air while waiting for the video feed to come back, and, at worst, had to proceed with brutal honesty.
"'He takes a three... And, folks, I'm honestly not sure if it went in or not,'" Hanni recalled saying live on the air during one of the toughest moments on a Garrett 3-point attempt at Texas Tech.
Most of the interruptions were brief. But with each one, Hanni's eyes grew big and his heart began beating faster, clear signs of him fearing the worst and hoping for the best.
The remote experiment began with Hanni and Gurley calling the action off of a Zoom feed of the Texas Tech game in December.
"We quickly learned that's just not the way to do it," Kincaid said.
From there, the broadcast team, with help from Rock Chalk Video and executives like Tom Boman and Marc Tuttle, kept making small improvements. But each remote broadcast was slightly different from the others.
Sometimes Hanni and Gurley called the game off of the television feed from ESPN. Other times they relied on the in-house video feed from the road venue. While the latter seemed to be most reliable, it also came with replays and hype videos interrupting parts of the action.
Regardless of where the images came from, Hanni said the limitations of what his eyes could see was a consistent obstacle.
"You suddenly become totally reliant on the camera man in the given venue," he said.
Added Gurley: "You're kind of flying blind. When we're at home, I look at the bench a lot to get Bill's reaction and the assistant coaches, the players, whatever. And then you're also not as in tune with the officials and their calls."
Both Gurley and Hanni said the process became comfortable enough that, in the heat of the action, they occasionally forgot where they were and simply reacted to what they were watching, just as they would if they were there.
Gurley also said the remote format made his postgame interviews with Self run smoother and flow better than they do at home, where he has to try to find a quiet moment in an energetic and busy environment.
All three crew members said one of the hardest parts of broadcasting remotely was the lack of insight and familiarity that comes from simply being around the team.
Hanni said he learned that Garrett was not playing at TCU when a photograph of the KU senior in street clothes taken by someone in the building surfaced on Twitter.
"There's so much to be gained by being there," Hanni said.
Sitting at the top of that list is the energy and excitement that live action provides, which Hanni then tries to convey to his listeners across the state.
Hanni still thinks about all of them when he's on the air. And he pays homage to them in his intro to every game. His hope is that KU fans barely noticed that he wasn't actually there for a handful of games this season.
"Normally, the greatest gauge of how much vocal inflection to use is feeding off those 16,300 fans at Allen Fieldhouse," he said. "So you do have to kind of dial it up yourself and Greg and I have to pump each other up.
"Nobody plans for a pandemic at the William Allen White School of Journalism," he added. "So we just made do like anybody in a the midst of a really challenging year, and we've done our best to make it sound like we're there courtside. It's just not nearly the same thing, though."