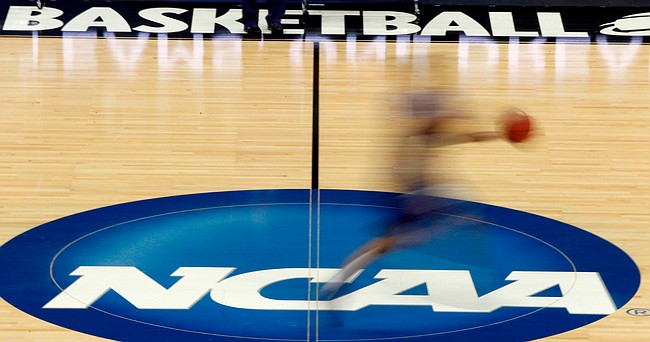 College athletes nationwide will now be able to profit from their names, images and likenesses, as the NCAA board of governors on Wednesday approved an interim policy that covers not only Division I, but D-II and D-III, as well.
The governing bodies at all three levels adopted a uniform interim policy for NIL rules that goes into effect on Thursday, the same day many state laws regarding NIL become valid.
Because there are no NIL laws on the books in Kansas, athletes at the University of Kansas will be allowed to follow the NCAA's temporary NIL policy. Jayhawks from any of the athletic department's programs will theoretically be able to profit through such ventures as sponsored social media posts or advertisements, autograph sales, Youtube channels, private training lessons, endorsement deals and the like without violating NCAA rules.
The NCAA's interim policy doesn't change its longstanding rules that prohibit pay-for-play and improper recruiting inducements.
"This is an important day for college athletes since they all are now able to take advantage of name, image and likeness opportunities," NCAA President Mark Emmert stated in a release. "With the variety of state laws adopted across the country, we will continue to work with Congress to develop a solution that will provide clarity on a national level. The current environment — both legal and legislative — prevents us from providing a more permanent solution and the level of detail student-athletes deserve."
The new temporary NIL policy, representatives from the NCAA have said, was established to serve as a placeholder until federal legislation or new NCAA rules are established. The new rules were deemed necessary immediately, with more than a dozen states in the U.S. set to have laws on the books that would allow college athletes to monetize their names, images and likenesses beginning on July 1.
Under the interim policy, athletes can use a professional services provider, such as an agent, for their NIL activities.
The NCAA's stopgap measure comes less than two weeks after the U.S. Supreme Court ruled against the association in a case involving education-related benefits. That 9-0 ruling is expected to impact issues related to compensation for athletes.
"The new interim policy provides college athletes and their families some sense of clarity around name, image and likeness, but we are committed to doing more," Division III Presidents Council chair Fayneese Miller stated. "We need to continue working with Congress for a more permanent solution."