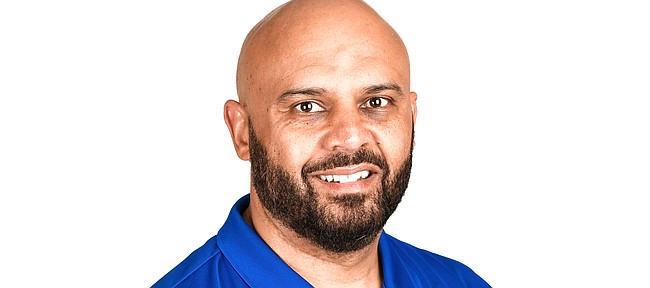 Although Chris Simpson is coming up on the two month anniversary of when he became the new linebackers coach for the University of Kansas football program, Simpson still will need a little more time before he has a better feel for his position group.
Other than Rich Miller, whom Simpson coached for two years at Buffalo before the UB reserve linebacker transferred to KU this summer, Simpson's next time watching any of the Jayhawks' linebackers play in person also will be his first.
Sure, Simpson has viewed practice and game video of the players he's now in charge of leading, but the longtime Lance Leipold assistant said during an interview this week "it's hard" to learn everything he wants to know about them for the time being.
"I have not seen it myself," Simpson said, while explaining his hesitation to talk about his expectations for the linebackers. "And obviously that's a unique challenge going into the season."
Much of what Simpson knows about the group at this point of the summer — Leipold and his staff didn't take over until KU had completed its spring practice schedule — he learned by reviewing available video footage. He said that at least allowed him to make observations without taking into account schematic differences that may exist between what the defense used to run and how it will look under new coordinator Brian Borland.
"At the end of the day there's taking on blocks, there's getting off of blocks, there's running, there's tackling — all that stuff is going to be consistent regardless of the scheme," Simpson said. "So (I was) able to see those types of things."
KU's linebackers coach and recruiting coordinator won't get the opportunity to see the players in action live until preseason practices begin later this summer. That's what Simpson is looking forward to, for a number of reasons. Coaches are able to work with players some during the off summer months, per NCAA rules, but can do little more than "watch them move around," as Simpson put it.
Once the Jayhawks are actually practicing, Simpson knows there will be some "small things" he will introduce that he expects will lead to "strong improvements."
"And we are teachers, we are educators in terms of the game, in terms of technique," he said. "And we do want to be very fundamentally sound in all that we're doing. And that's how we feel we're going to get better daily, by doing those types of things."
It won't be until preseason camp that Simpson will know which linebackers he can trust most and who among them will be in line for key roles in the fall. For now, he perceives the "want-to is there" within his position group.
"The desire to learn, the desire to know, the desire to absorb whatever it is we're trying to get done, whether it's schematically, or just within the culture of what we're trying to build here," Simpson said. "I'm pleased with the progress of the room as far as that goes."
A truer test will come as Simpson, under the direction of Leipold and Borland, tries to fully prepare the linebackers for a challenging 2021 schedule during a unique preseason in which the players will be practicing under the new staff for the first time.
"There could be a very big learning curve because of that," Simpson admitted.
To have the players as ready as possible when preseason practices begin, KU's coaches are installing the playbook off the field through meetings and video sessions with the players. Simpson said the coaches are reminding their pupils that by the time they actually take a rep of football during camp, they will already have gone through the nuts and bolts version of the install three times.
"Every time they get something presented to them, if it's the second time, the third time, you hope that they absorb just a little bit more so that we can kind of hit the ground running," Simpson said. "But it's extremely challenging."
Is there any type of unexpected upside to these circumstances facing the players and staff?
"We'll see," Simpson said.
Key KU football LBs entering 2021 season
No. 0 — Nate Betts, 6-1, 204-pound super-sr.
No. 6 — Taiwan Berryhill, 6-2, 220-pound soph.
No. 19 — Gavin Potter, 6-2, 222-pound jr.
No. 23 — Alonso Person, 6-3, 210-pound RS-fr.
No. 30 — Rich Miller, 6-1, 230-pound jr.
No. 32 — Dylan Downing, 6-1, 235-pound soph.
No. 38 — James Wright, 6-1, 195-pound fr.
No. 41 — Nick Channel, 6-0, 214-pound jr.
No. 43 — Jay Dineen, 6-2, 232-pound sr.
No. 49 — Krishawn Brown, 6-1, 206-pound RS-fr.