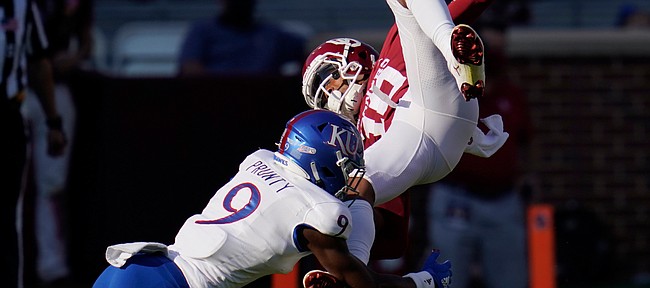 Three would-be starters for the 2021 Kansas football defense instead will compete in the SEC this fall. Former KU cornerback Karon Prunty announced Saturday evening he has committed to play at South Carolina.
Prunty's relocation to the football-crazed Power Five conference in the southeast followed similar decisions from former KU nose tackle Da'Jon Terry and former defensive end Marcus Harris, as all three used the transfer portal to leave the Jayhawks following the completion of spring practices in early May.
The first to exit the program as it transitioned out of the short-lived Les Miles era, Terry transferred to Tennessee, while Harris left for Auburn.
After a breakthrough freshman year at KU in 2020, Prunty, who announced his decision to leave in early June, ultimately chose South Carolina over Tennessee, revealing his choice on Twitter.
A 6-foot-1, 185-pound cornerback from Portsmouth, Va., Prunty was named to 247 Sports' True Freshman All-American team last year. He broke up 10 passes in his first college season, tying him for first among all FBS freshmen in that category.
While playing 525 total snaps for KU's defense, Prunty recorded one interception and didn't allow a single touchdown on a pass thrown his direction over the course of nine games as a true freshman starter.
Per Pro Football Focus, QBs only completed 38.5% of their passes when they threw at Prunty.
The versatile and stingy cornerback also made 26 total tackles, a tackle for loss and forced a fumble during his one year at KU.
Although the Jayhawks have benefited from the transfer portal in recent weeks, as six former Buffalo players followed new head coach Lance Leipold to KU, Prunty became the third surefire starter for the KU defense to transfer since the new coach took over.
Prunty, Harris and Terry all signed with KU when Miles was still the head coach and DJ Eliot was the defensive coordinator.
KU players to leave since Lance Leipold took over
• Karon Prunty, sophomore CB (South Carolina)
• Marcus Harris, sophomore DE (Auburn)
• Da'Jon Terry, sophomore DT (Tennessee)
• Valerian Agbaw Jr., sophomore CB (Charlotte)