If there were any questions about whether players from the Kansas City-based MOKAN AAU program can make it at basketball's highest level, the 2021 NBA playoffs appear to have answered them.
This year's playoffs featured eight former MOKAN standouts, and one of them, Atlanta Hawks guard Trae Young, is still alive and tearing up the league.
After leading the fifth-seeded Hawks to series victories over New York and Philadelphia in Rounds 1 and 2, Young exploded for 48 points, 7 rebounds and 11 assists in Game 1 of the Eastern Conference Finals to lead Atlanta to a win in Milwaukee earlier this week.
Young and Denver's Michael Porter Jr. are the two best-known MOKAN alums in the NBA today. But the list of MOKAN guys who appeared in this year's playoffs includes Philadelphia's Shake Milton, New York's Alec Burks, Boston's Semi Ojeleye, Utah's Juwan Morgan, Memphis' Jontay Porter and Dallas' Willie Cauley-Stein.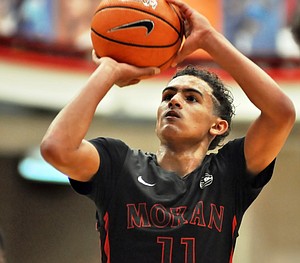 "Those were guys I watched growing up," said Kansas junior Christian Braun, one of four current Jayhawks who played for MOKAN before joining the KU program. "They were on our older team my whole time with MOKAN, and with Trae, Mike and Shake, I think we knew this was coming. They were that good when they were 17U players for MOKAN, and they dominated when they were that young. I don't know if everybody else saw it coming, but I saw it coming. So, it is exciting."
That was always the goal for MOKAN assistant head coach Dave Milliren, but even he said seeing the MOKAN guys all produce such high-level professional success at the same time was a bit of a surprise.
"If you would've asked me 10 years ago (if there would be eight MOKAN guys in the NBA playoffs someday), I would've been like, 'Hell no,'" Milliren told the Journal-World. "We joke when we're with EYBL teams from New York that they only need about a 3-mile perimeter to go find an NBA player and our perimeter is about 250-300 miles.
"But when we started this and started to zone in on building the right team and finding guys that fit, we really wanted to provide them with the framework for what it takes to get there."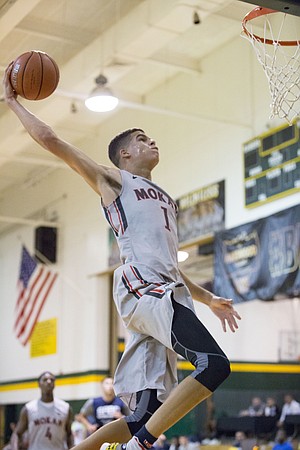 Millliren said he vividly remembers sitting down with 16-year-old Cauley-Stein to lay out the path to the pros. And his message was simple.
"You have a chance to make millions of dollars, but it's going to take a lot of work and you to enjoy this process," he told Cauley-Stein at the time. "You're going to have to say no to a lot of things, and you're going to have to turn down a lot of things, you're going to be lonely sometimes, and you've got to be willing to put in the work if this is the lifestyle where you want."
The rest, Milliren said, is up to the players.
"These guys aren't in the league overnight," he added. "It's a step by step process, and they all put in a lot of hard work to get to where they are today."
That approach was one thing that appealed to current KU point guard Dajuan Harris about the opportunity to join MOKAN during his prep days.
"Without them, I probably wouldn't even be here," said Harris, who joined Braun and fellow Jayhawks Ochai Agbaji and Chris Teahan in playing for MOKAN before college. "They have a great program. They run basically like a college. So we were already prepared to come here. And to see that lead into the NBA, that's been great."
Kansas coach Bill Self said Thursday that the rise in Kansas City basketball during his time at Kansas has changed the way the KU program recruits from merely dabbling in the Kansas City area to making it a priority.
And he credited three of the area's top programs — MOKAN, RUN GMC and Team YOBO — for their ability to consistently produce elite talent.
"I can't say anything about specific players or programs," Self said in a Thursday phone interview with the Journal-World. "But we should all be very proud of the success of the players from the many great programs in Kansas City. There are three very prominent programs in Kansas City that are well respected nationally and are very deserving of that. Their kids are always very well coached, very well drilled and all of the programs seem to have the best interest of the youngsters at heart."
In the case of MOKAN, Milliren credits the players themselves for most of that.
"They all have a mental toughness to them that's more God-given than anything else," he said. "We laid out the stuff for them on how to get there and what it's going to take, but they're the ones who did what they had to do to make it."