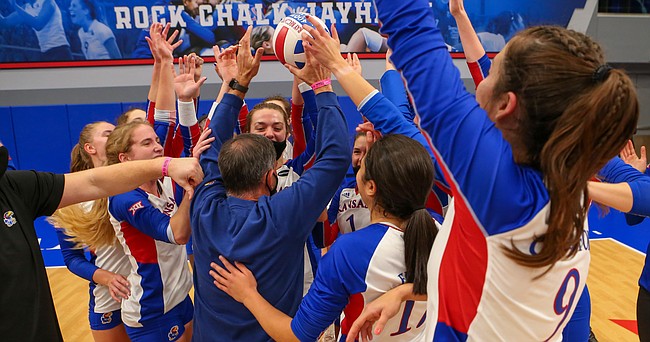 The Kansas volleyball team was picked to finish fourth in the preseason Big 12 volleyball poll this week, three spots behind perennial power Texas and just a few points behind Sunflower State rival Kansas State.
The Longhorns were the unanimous pick to win the conference, picking up 64 points and all eight available first-place votes in the nine-team league. Coaches are not allowed to vote for their own team.
Baylor, which was picked to finish second, received the only other first-place vote, finishing with 57 points. K-State came in third with 48 points and KU was right behind the Wildcats with 44 points.
Iowa State (35), West Virginia (29), Texas Tech (24), TCU (14) and Oklahoma (9) rounded out this year's preseason poll.
This season marks the 14th time in program history and the 11th consecutive season that the Longhorns were the preseason pick to win the Big 12. Texas finished as the national runner-up last season, falling to Kentucky in the NCAA title match. And Baylor advanced to the regional semifinals at last season's NCAA Tournament.
The Jayhawks, who feature all 16 returners from last season's squad and four impact newcomers, will have the largest roster they've ever had and will still be a relatively young team.
But so much of that youth played key roles as freshmen and sophomores in 2020, and KU coach Ray Bechard believes they're ready to take the next step.
"I think the league will be extremely competitive this year," Bechard recently told the Journal-World. "But I think we're positioned in a good place. We're still young, but there's some experience in that youth now so I'm excited about our opportunity this fall."
KU will be led by a trio of preseason all-Big 12 honorees. Sophomore Caroline Crawford and senior Jenny Mosser both were named to the first team preseason all-Big 12 team. And incoming freshman Caroline Bien, of nearby St. Thomas Aquinas High, was named the conference's preseason freshman of the year.
Kansas finished 12-10 during the pandemic-altered season of 2020, which featured all Big 12 matches in the fall and eight additional matches in the spring.
The Jayhawks were 7-9 in conference play, with wins over Baylor and Kansas State and two-match sweeps of Texas Tech and TCU.
The 2021 regular season is scheduled to begin on Aug. 27 and conference play is set to start on Sept. 24.
Preseason Big 12 Coaches Volleyball Poll
1 – Texas, 64 (8)
2 – Baylor, 57 (1)
3 – Kansas State, 48
4 – Kansas, 44
5 – Iowa State, 35
6 – West Virginia, 29
7 – Texas Tech, 24
8 – TCU, 14
9 – Oklahoma, 9