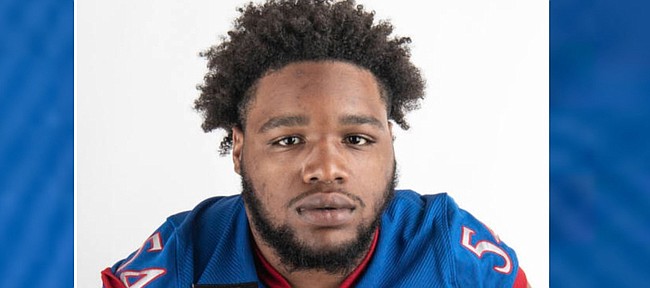 Although former Buffalo defensive linemen Eddie Wilson and Ronald McGee were on track to enter the 2021 season as seniors, Kansas football head coach Lance Leipold welcomed them to Lawrence as transfers this summer expecting both to play two years with the Jayhawks.
The blanket waiver for an extra year of eligibility issued by the NCAA in 2020 made the prospect of adding two veteran D-linemen Leipold and his staff already know well all the more appealing.
"That's one of the things we did look at," Leipold told the Journal-World regarding his staff's approach to adding transfers this summer. "We wanted to try in as many cases as possible, if we were going to take guys out of the portal, that we wanted guys with multiple years of eligibility."
Leipold also noted neither Wilson, who comes to KU with 23 career starts up front for UB's defense in the past three seasons, nor McGee, who contributed mostly in a reserve role for the Bulls for two years, have ever redshirted. So if some circumstances made it necessary or desirable, KU could potentially have either (or both) of the D-linemen on the roster even longer.
"Yeah, we want those guys," Leipold said of the expectation that Wilson and McGee will be with the program for at least two years.
Listed at 6-foot-4 and 325 pounds, Wilson is coming off a productive final year at Buffalo, during which he made 21 total tackles and a sack in a pandemic-shortened seven-game season. Wilson's play in the trenches as a tackle earned him a spot on the All-MAC third team in 2020.
In Wilson's first season of college football, as a true freshman in 2018, he joined one of Leipold's best rosters during his six years at UB. Even so, Leipold pointed out, Wilson proved to be good enough to play immediately, and by the end of the year Wilson made his way into the starting lineup. The head coach noted Wilson was one of three true freshman starters for UB who played in the 2018 MAC title game.
Wilson never left the Bulls' starting lineup nor missed a game in the two seasons that followed. And as the defensive lineman joins the KU football roster, Leipold considers him to be a "very consistent" addition to the team, much like former UB starting center Mike Novitsky.
What's more, headed into his fourth year of college football, Wilson, according to Leipold, has not only continued to work on his game and develop as an effective defensive lineman but also lost a lot of weight.
"Eddie's put himself in the best shape that he's been in," the coach said.
McGee's college journey actually began in the state of Kansas in 2018, when the Sumter, S.C., native played at Highland Community College. Leipold said McGee was just a late qualifier out of high school, which led to the D-lineman playing one season of juco football.
Now listed at 6-3 and 285 pounds, McGee played as a reserve in all 13 games of UB's 8-5 season in 2019, and made 11 tackles and one sack. He followed that up in 2020 with one start in his four appearances, and finished with seven tackles and one sack.
"Ron's extremely athletic. And he can play a lot of different spots across that line," Leipold said of McGee.