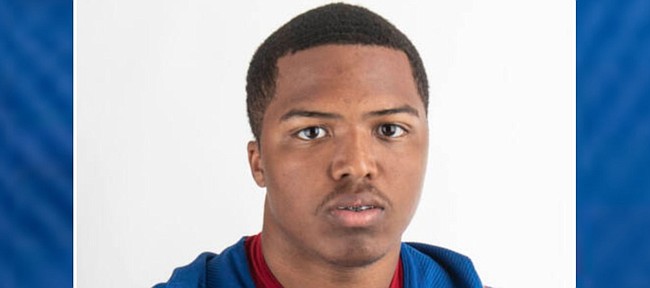 It didn't take much deliberation for Kansas football head coach Lance Leipold when he decided to invite Rich Miller out of the transfer portal and onto the Jayhawks' roster.
During Miller's first two seasons playing college football, the linebacker from Detroit may not have made a start for Buffalo, but according to Leipold — his former and current head coach — Miller made a name for himself at UB with his ability, acceleration and special teams efforts.
The Bulls' depth at linebacker, Leipold said during an interview with the Journal-World, had much to do with Miller remaining in a backup role as a sophomore in 2020, following a freshman year in which Miller played on every special teams unit for the Bulls.
"The thing we really like about Rich," Leipold said not long after Miller joined the Jayhawks as a transfer this summer, "is that of all of our linebackers there (at UB), he was one of the fastest."
Miller's most productive game from an individual standpoint this past fall came in UB's season opening victory at Northern Illinois, when he recorded five tackles and one tackle for loss.
The speedy linebacker would appear in all seven games as a backup during the Bulls' 6-1 season, and he finished with 13 total tackles.
What Leipold and his assistants — defensive coordinator Brian Borland and linebackers coach Chris Simpson also coached Miller at UB — grew to appreciate about the substitute defender, the head coach said, was that Miller proved to be "the most versatile" linebacker on the team.
Exactly where Miller fits in for the Jayhawks has yet to be determined, as Leipold's staff won't even conduct its first practice of the transition until later this summer, when preseason camp begins.
Whether Miller, listed at 6-foot-1 and 230 pounds, turns out to be a first-time starter or an important backup, he's joining a linebacker group without a ton of experience. Gavin Potter, now a junior, started the final five games of 2020 for KU, as the team lost both Dru Prox and Denzel Feaster during the season. Walk-on Nick Channel, also a junior this year, ended up starting four games for the depleted defense this past fall.
Much of the group is comprised of underclassmen, such as sophomore Taiwan Berryhill and redshirt freshmen Alonso Person and Krishawn Brown, while super-senior Nate Betts, previously a safety for the KU defense, also is expected to play a key role.
Leipold thinks between Miller's proven value on special teams, his speed and his adaptability as a defender, the transfer from UB will be an important addition to the roster.
"He's an outstanding leader," the coach added of Miller, "and he can play all three linebacker spots for us."
Key KU football LBs entering 2021 season
No. 0 — Nate Betts, 6-1, 204-pound super-sr.
No. 6 — Taiwan Berryhill, 6-2, 220-pound soph.
No. 19 — Gavin Potter, 6-2, 222-pound jr.
No. 23 — Alonso Person, 6-3, 210-pound RS-fr.
No. 30 — Rich Miller, 6-1, 230-pound jr.
No. 32 — Dylan Downing, 6-1, 235-pound soph.
No. 38 — James Wright, 6-1, 195-pound fr.
No. 41 — Nick Channel, 6-0, 214-pound jr.
No. 43 — Jay Dineen, 6-2, 232-pound sr.
No. 49 — Krishawn Brown, 6-1, 206-pound RS-fr.