Kansas basketball coach Bill Self said Monday that he believed the unanimous Supreme Court ruling that the NCAA violated antitrust rules in blocking certain aid for student-athletes was the latest sign that change in college athletics was "inevitable."
Speaking about a variety of topics on the podcast, "Courtside with Seth Greenberg and Dan Dakich," Self offered up his reaction to the vote.
"I believe that this ruling kind of makes (it) even more obvious (that) we're not putting the genie back in the bottle or the toothpaste back in the tube," Self said. "It's out."
While many viewed the ruling as the latest blow to the NCAA's amateurism model, Self said he did not necessarily view Monday as a bad day for college athletics or college basketball. Instead, he called it "a positive step in trying to come to a conclusion in what our sport will potentially look like moving forward. Because right now, as you know, we're just in flux. We don't have any idea what's going on."
Monday's ruling does not mandate that schools pay athletes. Instead, it says that the NCAA no longer can stand in the way of student-athletes receiving compensation for eductation-related expenses, such as paid internships, study abroad programs, laptops and more.
The timing of the ruling, however, comes as the name, image and likeness battle continues to rage across the country, putting even more weight on the NCAA's shoulders to institute meaningful change.
To date, six states have passed laws allowing student-athletes to make money on their name, image and likeness. Those laws go into effect on July 1. Kansas is not one of them.
In addition, NCAA President Mark Emmert has said the organization plans to pass some sort of ruling by the end of the month that would put schools in all states on an even playing field when it comes to recruiting in the NIL era.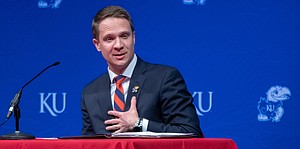 First-year KU Athletic Director Travis Goff addressed both topics at Monday's quarterly meeting of Kansas Athletics Inc.'s Board of Directors, saying that Monday's Supreme Court ruling, along with July 1 being right around the corner, made for some heavy times.
"Some of the natural sentiment, which is probably a fair sentiment to have, is that this might have some fraying or continued fraying of just general amateurism philosophies for the NCAA and in college athletics," Goff said Monday. "I think that just remains to be seen as we move ahead."
Regardless of what direction things wind up going or if the NCAA is successful in finding some sort of uniformity, Self told Greenberg and Dakich that he already had begun to address the topic with recruits and their parents.
"It's certainly part of the education that's going on," Self said. "Because I really don't know exactly how to pitch it yet. I tell them, 'This is what's going to happen. This is what it potentially could look like.' We haven't been set with the guidelines in exactly what the guardrails will be."
Self said it was his understanding that schools could not actively be involved in helping student-athletes find endorsement opportunities but that they could have representation that helps them.
"As long as it is not conflicting with the schools' already-in-place contracts, it could be pretty much free game," he said of NIL opportunities. "You can do whatever you like. It'd be hard for an individual to do some type of sponsorship deal with Coca-Cola if the university is a Pepsi-provided university. Could be the same with shoe companies. We don't know about restaurants. We don't know about dry cleaners. We don't know about car dealerships. We have a pretty good understanding on what the value of 100,000 followers on Instagram would mean compared to somebody with 500,000 followers, compared to somebody with 10,000 followers. But everything is abstract, so we're not really using it to sell, we're just saying, 'Whatever it is, we'll maximize it.'"