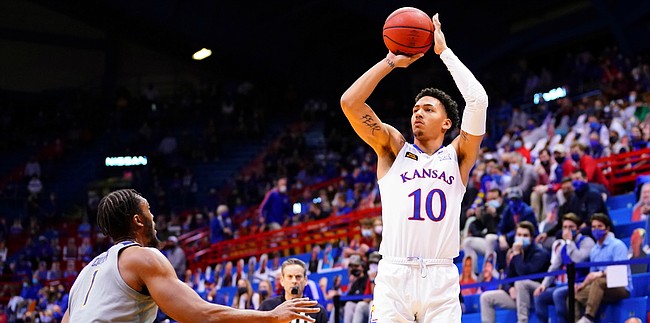 In two games at last weekend's G League Elite Camp in Chicago, Kansas sophomore Jalen Wilson made one start and came off the bench one time while averaging roughly 19 minutes per game.
Playing for Team Three, at the 40-man camp, Wilson scored six points in his first game, a 94-90 victory, and four points in Game 2, a 78-74 loss.
In the two games combined, he shot 5-of-13 from the floor overall, including 0-of-4 from 3-point range, and grabbed five rebounds, dished six assists and turned it over four times.
From the looks of things, those numbers do not appear to have been deemed good enough to earn an invitation to this week's NBA combine, which got under way on Monday in Chicago.
According to ESPN.com draft expert Jonathan Givony, Louisville's Carlik Jones, Ohio State's Duane Washington, South Carolina's AJ Lawson and Maryland's Aaron Wiggins were the G League camp players who earned invitations to the pre-draft combine, which runs through the end of the week.
KU senior Ochai Agbaji, who received an initial invitation to the 70-player combine, is in Chicago this week. He'll run through medical checks and skills tests for the next couple of days before participating in live five-on-five scrimmages Thursday and Friday.
The scrimmage portion of the combine will be televised by ESPN2 on Thursday and ESPNU on Friday, from 2-6 p.m. each day.
Former KU guard Marcus Garrett also attended the G League Elite camp but did not participate because of what Givony called "a minor injury during a private team workout."
Givony reported that Garrett still had more than 20 team interviews set up in Chicago.
Garrett, who could have returned to KU for a super senior season in the wake of the pandemic, has indicated that he intends to stay in the draft and move on with his pro career.
Meanwhile, Wilson, Agbaji and Arizona State transfer Remy Martin have until July 7 to make a final decision about remaining in the NBA draft pool or returning to KU for the 2021-22 season.