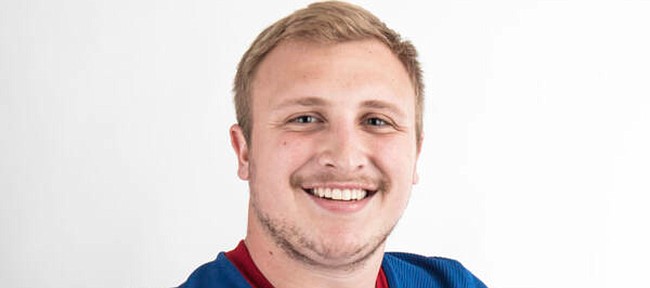 Before Mike Novitsky became a starter as a redshirt freshman at Buffalo, his head football coach, Lance Leipold, doesn't mind admitting now that the coaching staff was more than a little concerned about the state of the team's center position at the time.
It wasn't that Leipold — Novitsky's coach then at UB, and now again at the University of Kansas — and his assistants doubted Novitsky's talent and potential. Rather, the program was so used to James O'Hagan, UB's starting center for the previous four seasons, manning the spot for "like 99 percent of our snaps," Leipold estimated, that they didn't know exactly what to expect.
Any lingering trepidation regarding UB's center situation didn't survive past the team's first major test of the 2019 season, however.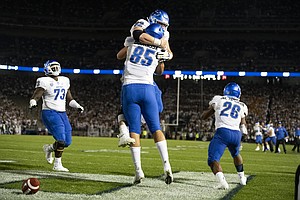 "He went to Penn State in front of (104,136 fans) and never flinched and played his tail off and held his own," Leipold said of Novitsky during an interview with the Journal-World. "And he's never looked back since."
Novitsky, one of six former Buffalo players to transfer to KU this summer after Leipold took over the program, started every game at center for the Bulls over the course of the past two seasons, following a redshirt year in 2018, when he was behind O'Hagan on the depth chart.
Before transforming into a first-team All-MAC center for Buffalo in 2020, Novitsky played tight end and lacrosse for his high school in Victor, N.Y. Leipold said he and his longtime offensive coordinator, Andy Kotelnicki, watched Novitsky as a prep when Leipold suggested they take a shot at converting the prospect into an offensive lineman.
When the coaches presented the idea to Novitsky, Leipold recalled, the high school recruit replied, "I'm in."
"That's just the kind of guy that he's been," Leipold said of Novitsky, who joined the KU football program via the transfer portal this summer.
Now a 6-foot-5, 295-pound junior for the Jayhawks, Novitsky is the type of player who his head coach thinks will bring consistency to a position group where KU struggled mightily this past fall, under a different coaching staff.
Among the O-line's numerous problems was a lack of continuity, as four different Jayhawks started at least one game at center: Adagio Lopeti, Api Mane, Chris Hughes and Garrett Jones.
During spring practices, before Leipold took over and Novitsky decided to follow his head coach to Lawrence, KU primarily used Colin Grunhard and Lopeti at center.
"Now, (Novitsky's) going to have to earn his way in there," Leipold said of the UB transfer becoming KU's first-string center, "and Mike knows that."
With Novitsky joining the group, Leipold said the Jayhawks should have "depth, with some consistency" at center "If we stay healthy."
While the exact roles for KU's offensive linemen and other players won't be settled until preseason practices at the earliest, Leipold thinks Novitsky, who has played for the head coach and Kotelnicki for three years, as well as for new KU O-line coach Scott Fuchs for two, will make an impact in the weeks ahead, as the program continues its transition from one regime to another.
"Also helping everyone kind of learn our offensive terminology will be a big deal," Leipold said of how he thinks Novitsky's presence will quickly benefit the program.