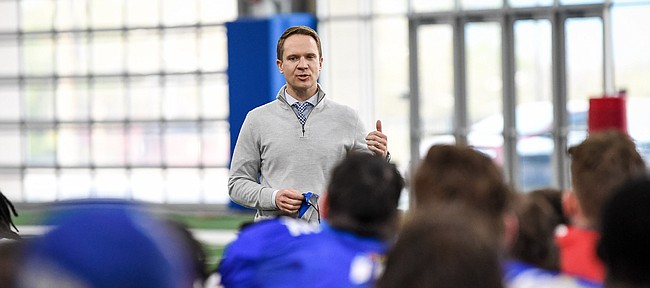 As the University of Kansas athletic department continues to move forward into post-pandemic operations, the Kansas Athletics, Inc., Board of Directors on Monday unanimously approved a $100 million budget for Fiscal Year 2022, which runs from July 1, 2021 through June 30, 2022.
That number is in line with where KAI has been in recent years, and is just $8 million shy of the early budget formulated for Fiscal Year 2021 that was approved at $100 million last year, shortly after the arrival of the pandemic as KU leaders braced for the impact.
As of Monday, KAI Chief Financial Officer Pat Kaufman said the final revenue haul for Kansas Athletics in Fiscal Year 2021 was on pace to be roughly $82.4 million. That would make the total COVID hit to KU's pre-pandemic plans roughly $26 million.
In February, Kaufman said the board had planned for an $18 million deficit from its approved budget for Fiscal Year 2021. But after a number of cost-savings measures were put into place, the deficit wound up being closer to $12 million.
While the hiring of a new athletic director and head football coach created what Kaufman called "unplanned transition expenses," staff pay cuts and furloughs, along with recruiting travel being cut out altogether for 11 months, helped offset some of the losses.
When adding in savings of roughly $5.5 million from Fiscal Year 2020, Kaufman said the final numbers came out to a "cash shortfall" for 2021 of roughly $6 million.
Kansas Chancellor Douglas Girod asked on Monday if KAI would need to draw on a line of credit to cover the shortfall. And while Kaufman was optimistic that they would not need to do so for the full amount, he said he would not know for sure until this fall.
KAI also recently refinanced its debt and will make no payments for the next two years, which Kaufman said would save roughly $3 million per year.
Both Kaufman and Girod praised the athletic department as a whole for its handling of the pandemic and for its conservative approach to coming out of it.
Although certain assumptions were made to produce the 2022 budget, including full-capacity attendance at basketball and football games in the months ahead, Kaufman said the overall goal was to remain conservative and as lean as possible wherever possible.
"It's tight," added Jeff DeWitt, the university's new chief financial officer and executive vice chancellor for finance. "But you've gotten through it and now it's a matter of getting it stable and drawing it back to doing all the things that we want to do."
In other news Monday, the board:
• Welcomed new Athletic Director Travis Goff to the quarterly meetings and heard a short recap on his recent changes and evaluations for the department.
Goff, who already has hired a new football coach in Lance Leipold, revealed Monday that finalists for the vacant women's golf coach position were expected to be on campus this week.
"Every one of these hires, every one of these positions is equally important," Goff said, noting that he was excited to be able to do in-person, on-campus interviews with the candidates vying to replace longtime KU coach Erin O'Neil.
Goff, who was hired in early April, also shared with the board an overview of his recent work in the areas of evaluating the department's culture and strategic planning, both of which center around engaging KU's support base, transparency and being as inclusive as possible in all areas.
Goff summed it up as a road map for "why we're here, what we're about and how we're going to go about our work."
"Culture matters," he added. "The culture within our athletic department is strong and we want to continue to build upon that."
• Heard brief comments from Goff on name, image and likeness and his thoughts on Monday's Supreme Court ruling in favor of former athletes in a compensation case against the NCAA.
Goff maintained that a lot is still unknown about the NIL situation, both at the state and federal levels, and that patience is key at this point.
He also said KU would not "overreact" to anything happening on the college athletics landscape until more is known.
"At the end of the day, we're still in limbo," he said. "This week should provide a clarifying point when the Division I Council meets and, we hope, votes on some action from an NCAA perspective. But it remains to be seen what those implications mean for any of us and to what extent that impacts NIL.
"In the meantime, we don't sit idle and we make sure, as an athletic department and a university, that we're taking a proactive approach to preparing for what will lie ahead with NIL but also finding a philosophy around NIL that really fits our value system here at KU."
• Discussed the NCAA waiver that was granted this year that has allowed student-athletes to return to campus for summer workouts without requiring enrollment in summer classes.
Goff said a little more than half of the football, the majority of the men's basketball team and a smaller number of women's basketball players had enrolled in classes this month. Goff said women's coach Brandon Schneider allowed and encouraged his international student-athletes to return home throughout June. Many of them are expected to be on campus and likely enrolled in summer classes in July.
Most board members who commented, said they believed that the rule may remain in place in future years, but nothing has been decided beyond 2021 at this point.
"Good flexibility and good rationale," Goff said of the waiver.