Topeka — Kansas forward David McCormack said Tuesday that his recovery from offseason foot surgery was going "great" and that he was hoping to be back to basketball action sometime soon.
"It's hard to know exactly (when)," he said Tuesday during a break in the Washburn Basketball camp he and teammates Christian Braun and Dajuan Harris helped work. "I think they said soon, hopefully weeks, but I don't have set date quite yet."
Kansas coach Bill Self told the Journal-World in May that McCormack's recovery was progressing nicely and that he thought his veteran forward would return to full-speed action in July.
"We're not going to bring him back too quick," Self said. "But we do not know exactly when he'll start getting on the court."
The Norfolk, Va., senior, who played the final five games of the 2020-21 season on a sore right foot, had surgery to repair a broken bone in the foot in late March. The diagnosis then was that McCormack would miss 12 weeks.
If that timeline holds, McCormack could return to some type of basketball activity as soon as the end of the month. Needless to say, the KU big man who earned second-team all-Big 12 honors a season ago after averaging 13.3 points and 6.2 rebounds per game will be ready whenever the day arrives.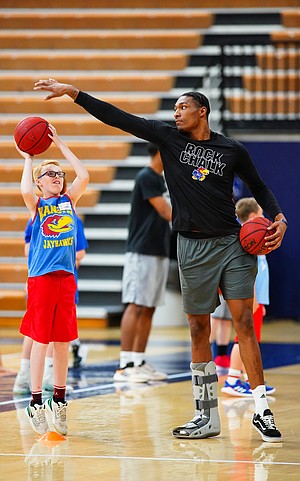 McCormack said doctors continue to paint a positive picture about his return and he added that he was facing a "relatively quick recovery time" because of the way his body is healing and responding to treatment.
"It's definitely the longest break I've had in years," he said while wearing a protective walking boot on Tuesday. "It's unwanted, but it's there."
If not for the injury, McCormack almost certainly would be in the same position as 2020-21 KU teammates Ochai Agbaji and Jalen Wilson — along with transfer Remy Martin — in testing his NBA draft stock and gathering feedback on a potential jump to the pro ranks.
He said Tuesday that missing out on the opportunity to work non-stop on his game this year — after having it the year before — was a tough blow initially.
"It hit hard because I had to slow down," McCormack said. "I've always been a fast-paced type of person. But I was able to deal with it, cope with it and then use it to just help the new guys out. Instead of working on myself, I could help better the team, better the newcomers and just spend time with them, kind of growing the team chemistry."
For a brief period around the time of his surgery, McCormack said he still considered whether he should put his name into the NBA draft pool. But he said conversations with Self and team doctors, as well as with a few members of his family, helped him make the best decision.
"Just take care of it, make sure you're taking care of your health first," he said. "That comes before anything."
While rehab and the walking boot have drastically limited what McCormack has been able to do so far this offseason, he said Tuesday that he has focused a lot of his efforts on the things he can impact. Leadership, fine-tuning his mental approach and helping KU's newcomers, big and small, adjust to Kansas basketball have been at the top of the list.
"He's a great teammate," Harris said Tuesday. "I feel like he'll have a big year next year. Give him the ball and let him rock out. If he has a great year, I feel like we'll be really good."
Despite the limitations, McCormack said he still planned to add some "expansion" to his game in time for the 2021-22 season.
"It may be spacing the floor, defending, just being an all-around athlete and leader on the court," he said.
Those traits, of course, are things people have come to expect from seniors in any program. And even if the fact that he actually is a senior now is still a little mind-blowing to him, McCormack said he was eager to embrace the role of upperclassman in the months ahead.
"It's crazy," he said of being a senior. "Time goes by fast. But it just kind of came naturally. You just have to be assertive. You know what coach wants, you know how the game is going to be played and you can tell the young guys and newcomers and it just kind of unfolds as time passes."
While McCormack remains antsy to get back, and is essentially counting down the days to his return to the court, his focus remains fixed on one thing above everything else.
"I'm just making sure I'm staying positive," he said. "Everything's going great. Just going day by day and getting better each week."
https://www.youtube.com/watch?v=gTiaBB02WSY