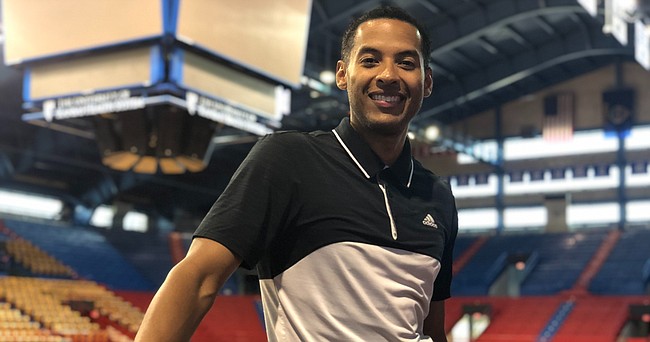 With more than 100 years of experience in the three offices nearest his, interim Kansas basketball assistant Jeremy Case has taken advantage of the wisdom Bill Self, Kurtis Townsend and Norm Roberts can provide during recent weeks.
"Oh yeah," Case told the Journal-World during a recent sit-down in his office. "I'm in Coach T's office almost half the day. I'm talking to Coach Rob half the day. I'm leaning on them as much as I can."
Promoted to the position on an interim basis following Jerrance Howard's departure to Texas, Case, 36, already has learned a lot about the job from veteran KU assistants Townsend and Roberts.
From which players to target, what contacts to pursue — and not pursue — and how to evaluate talent and present it to Self, Case has been nonstop busy this offseason.
"There's not a day that goes by that I'm not on the phone talking to at least 10 people," he said. "I just want to make sure I touch as many people as I can."
A former Jayhawk guard who played for Self from 2003 to 2008, Case returned to KU in 2016 as the program's video coordinator after three years as an assistant at Southeast Missouri State and four years as an assistant coach at Houston Baptist.
The caliber of player that programs like SEMO and Houston Baptist recruits is notably different than the future-NBA draft picks Kansas routinely pursues. And while recruiting, at its core, is the same at both places — building relationships, creating trust, selling your program's strengths — Case acknowledged that targeting talent at KU is an entirely different challenge.
"I think the recruiting is going to be the toughest part because I haven't been in it in a while," Case said. "Obviously Kansas can recruit itself, but when you're going against Duke, Kentucky, Carolina, that's going to be new to me."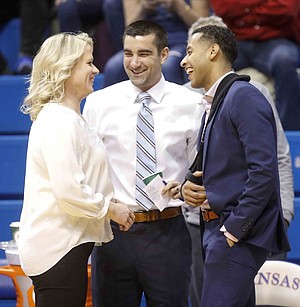 It's actually just starting, too.
College basketball's recruiting restrictions were lifted June 1, after operating in a dead period — no travel, no visits for prospects or coaches — for more than 14 months in the midst of the pandemic. That allowed players to set up campus visits and coaches to head back out on the road, and Case has been a central part of KU's planning for both efforts.
KU's coaching staff, including Case, is expected to go out on the road recruiting at the end of the month, as some of the country's bigger AAU events return to action after a year off.
In many ways, his first foray into high-major college basketball recruiting comes at the perfect time. Case said having extra down time in April and May allowed him to settle into his new role and make as many contacts as possible. And he praised Self for his handling of an overeager assistant who was constantly trying to show what he could do.
"Coach has been great," Case said. "He's been patient and he's been real accepting of what I'm trying to do and my hustle and my grind."
In explaining what constitutes his hustle and grind, Case said he spent a lot of May trying to "shove kids down coach Self's throat" to show that he had an eye for talent and was willing to put in whatever time was needed to help the program.
He said he wanted to demonstrate that he was ready to do whatever was asked of him and that the program would not miss a beat while the coaching staff underwent its latest transition.
"There was no pause for me," Case said of accepting the role when Self assigned it. "Once we found out Jerrance was leaving, it was like, 'I'm ready coach. I've been waiting on this, you've been grooming me for this opportunity and if you give it to me I won't let you down.'"
Case, who got married last September, grew up close to coaching. His father, Win Case, has been in college coaching since 1988. He currently is in his fourth year as an assistant to Kermit Davis at Ole Miss after spending more a decade as an assistant coach at Middle Tennessee.
While coaching is what the younger Case now envisions for his basketball future, filling the role on the sidelines was not always in his plans.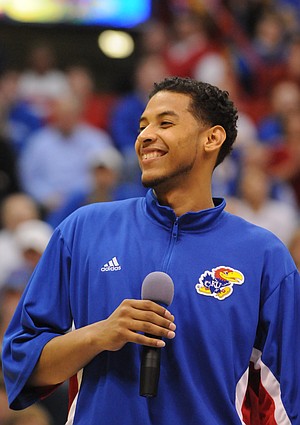 "Not teenage Jeremy," he said with a laugh. "Teenage Jeremy wanted to play in the NBA. And I thought I was all the way until sophomore or junior year (at KU). And then it was like, 'Yeah, probably not going to happen.' At that point, it was like, what do I want to do and what do I know best? Ball."
That belief, and a lifetime around the game, provides Case comfort as he sets out on his new adventure.
At the time of Case's promotion, Self said he was in "no hurry" to make a permanent decision on the position.
"I can go through the summer on this," Self said on April 7. "I've just got to evaluate it."
Case said he has not viewed the past couple of months as an audition simply because there has not been time to think about how to classify it. Only work to be done.
"The past three or four weeks, I've been waking up in the middle of the night thinking about I need to do this, what if this happens, things like that," he said. "I feel like It's time for me to get into a role like this, and I'm excited about the opportunity. I want what's best for our program and will be happy with anything coach Self decides."
"The knowledge of it, that's not a problem," he added. "I don't have the relationships yet with certain people, but that's fine. I'm always going to be willing to grind and go out swinging. That's all I can do."