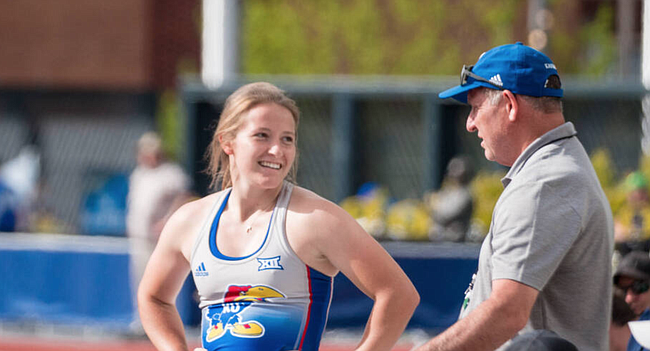 Kansas sophomore Samantha Van Hoecke placed eighth overall to earn first team All-America honors in the women's pole vault final at the NCAA Outdoor Track & Field Championships on Thursday.
Van Hoecke's achievement came in her first NCAA Outdoor appearance in Eugene, Ore.
The Wellsville native entered the competition at the opening height of 4.05 meters and she cleared the mark on her first attempt. That moved her to the 4.2-meter height, which she also cleared on her first try.
As one of just 11 athletes vying to clear 4.3 meters, Van Hoecke missed on all three attempts, leaving her in a tie for eighth place.
Five Jayhawks qualified for this year's NCAA Outdoor Championships and the first four to compete all earned All-American distinction.
Gleb Dudarev (second in the hammer throw) and pole vaulters Zach Bradford (fifth) and Hussain Al Hizam (seventh) competed at the event earlier in the week.
Alexandra Emilianov, the final Jayhawk scheduled to compete at this week's meet, is slated to participate in the women's discus at 4:35 p.m. today.