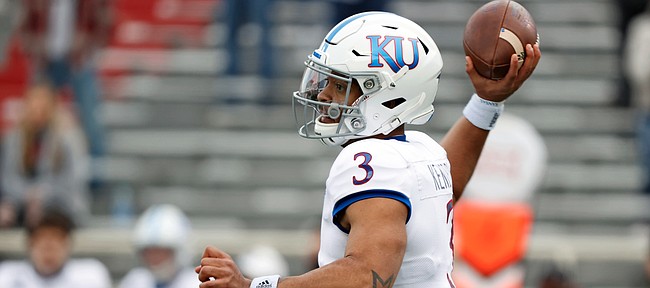 As Kansas football players get initiated this summer into what head coach Lance Leipold and his staff expect of them, a handful of Jayhawks already are getting noticed.
The team's director of sports performance, Matt Gildersleeve, tabbed veteran quarterback Miles Kendrick KU's first "guy of the week" for all that the QB has done during the Jayhawks' strength and conditioning workouts so far.
"Guy of the week is the guy that moves the needle the most in this program — not just maintains the standard or is consistent with it, but he is relentlessly pursuing the enhancement of our standard here," Gildersleeve explained in a video posted to KU football's social media accounts.
"He walks in the room and makes it better because he's there," Gildersleeve added, as he explained what he's looking for from a player before bestowing a Jayhawk with the honor.
"He's gonna elevate those around him. He's gonna serve our room — he walks into it, he serves the people around him, he makes them better."
A senior from Morgan Hill, Calif., Kendrick is now in his fourth year at KU. During the past several months in particular, teammates and coaches have lauded his approach as a leader within the facility.
Kendrick split reps at QB with sophomore Jalon Daniels through most of the spring, as well as the spring game, in which Kendrick started and went 17-for-29 through the air, with 102 passing yards and a pair of interceptions.
A starter in two of KU's games in 2020, Kendrick on the year completed 60.8% of his passes, and threw for 647 yards, with a team-leading six touchdown passes and five interceptions.
It's Kendrick's influence during summer workouts, though, that Gildersleeve appreciates. KU's strength coach said anyone who is named "guy of the week" has a selfless way of going about his business.
"He comes in, he works hard, but that ain't it," Gildersleeve described. "It's about the guys around him that are elevated because of his performance."
The program's director of sports performance also introduced his "rock chalk rack" concept to the Jayhawks as summer lifting got under way in recent days.
When the players come into the weight room to train with Gildersleeve, he divides them into lifting groups and the Jayhawks in each group have an assigned rack for the week. Every day the team votes for which player had the "rack of the day" and at the end of the week the players who picked up that honor the most times become members of the "rock chalk rack" group. Those who achieve that status get to use a rack that's roped off and reserved for them exclusively.
"Now only those guys train on that rack," Gildersleeve said. "Nobody else.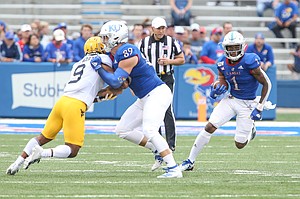 The inaugural members of the "rock chalk rack" club are tight ends Mason Fairchild and Trevor Kardell, and outside linebackers Hayden Hatcher and Alonso Person.
"You have to earn the right and the privilege to train on the rock chalk rack. But those are your guys," Gildersleeve said. "Those are the guys who are pushing the program in the right direction."
Fairchild is a junior tight end from Andale, who was most recently listed on KU's roster at 6-foot-5 and 250 pounds. Fairchild caught five passes for 27 yards while playing in all nine games and making seven starts in 2020.
A redshirt freshman, Kardell only appeared in one game this past season, in KU's finale at Texas Tech. The second-year tight end from Lee's Summit, Mo., was listed this spring at 6-5 and 234 pounds.
A senior linebacker from Council Bluffs, Iowa, Hatcher appeared in eight games as a reserve in 2020, recording seven total tackles and one tackle for loss. KU listed him this spring at 6-3 and 225 pounds.
Person, a redshirt freshman linebacker from Harbor City, Calif., has yet to appear in a game for KU, but that figures to change in the fall. Person made three total tackles and a tackle for loss during KU's spring game. KU's roster listed him at 6-3 and 210 pounds in the spring.