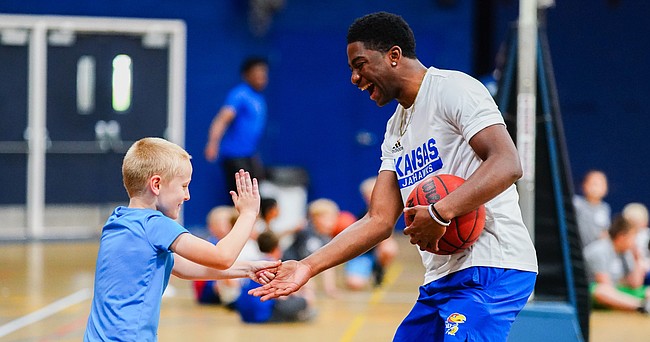 Topeka — After spending the past couple of days settling into their new surroundings in Lawrence, a trio of Kansas basketball newcomers jumped feet-first into life as Jayhawks on Tuesday at Washburn University.
Freshman roommates Zach Clemence and Kyle Cuffe and Drake transfer Joseph Yesufu were the first KU players to attend this year's Washburn basketball camps run by current WU coach and former KU walk-on Brett Ballard.
Making the 25-minute trip down I-70 to mingle with the campers and help teach them some basketball skills has become an annual ritual for Bill Self's players. But the experience was entirely new for all three players who showed up on Tuesday.
You could not tell that from watching them in action, though.
In addition to signing autographs and telling the campers a little about themselves, all three Jayhawks got involved in the action and cheered on the young players through free throw contests, dribbling drills and other basketball skill competitions.
"These guys were great," Ballard said between the morning and afternoon sessions. "They didn't waste any time getting involved and really looked like they were having fun out there."
That's because they were.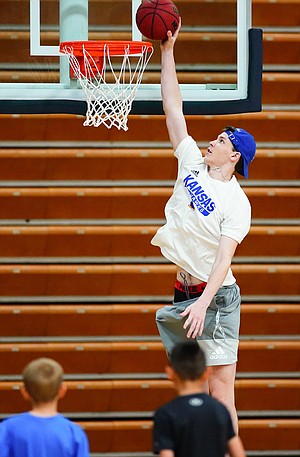 Cuffe, a combo guard from New York City who reclassified into the 2021 recruiting class to come to KU a year early, said the autographs he signed on Tuesday were the first of his life.
"I don't know if my signature is good yet," he said. "But it's all right."
It certainly was with the couple hundred kids who lined up to get one. Many of the Washburn campers showed up decked out in their best KU attire, knowing that they likely would get a chance to meet and interact with a couple of Jayhawks.
Although none of the three have played a single minute for Bill Self's squad to this point, Cuffe said he felt plenty of love from all of them.
"We're just starting out here," Cuffe said. "But the fact that you can have fans already so early on is just amazing."
Yesufu agreed and said he got the feeling that several campers knew at least a little about some of the newest Jayhawks.
"A lot of them do," he said.
The gear helps, of course. Tall, athletic dudes wearing KU colors and clothes is often a dead giveaway for the affiliation with Self's program. But it turns out that the campers weren't the only ones who benefited from seeing the KU apparel on Tuesday.
"I couldn't wait to get the gear," Yesufu said with an ear-to-ear grin.
Although Tuesday, and, really, this entire first week and summer is about these guys getting to know one another better, there was evidence of progress in that area at Washburn's Lee Arena.
"It's been so cool meeting all the new guys," Clemence said. "They're all so cool and it's just like friends forever."
That was particularly true for Clemence with Cuffe.
"That's my guy," Clemence said of his roommate, who was sitting nearby. "Already. It's been two days."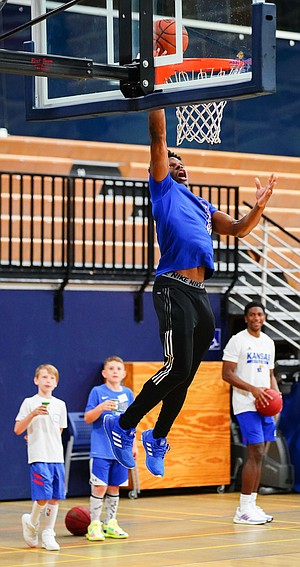 Yesufu said he knew there would be ups and downs in the days and weeks ahead, as the Jayhawks, new and old, try to build the chemistry needed to attack their 2021-22 goals.
But even in the short time he's been here, the former Drake standout said one thing was already clear about what it takes to play at Kansas.
"There's definitely going to be challenges," Yesufu said. "We all can score. But it's all about how we can win now."
That answer figures to come with time and coaching. And Cuffe said he was looking forward to steady progress in that department.
"I don't think I know them as well as I need to yet," he said. "But I feel like we're getting there, and then the returners are slowly coming back and coming to work out with us, too, so I feel like once it gets rolling, like after next week, it'll be smooth."
Added Clemence, who was asked what it felt like to finally be on campus wearing KU colors: "It's crazy to think it's real, but it is."